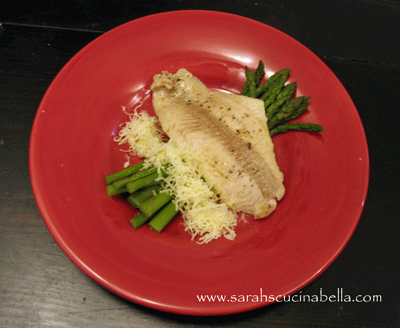 When I was younger — probably 8 or 9 — I struggled with the limited array of fish, vegetables and fruit served around my house. While we ate a diverse selection of meats and poultry, vegetables were limited to standard salad vegetables, corn, peas, green beans, cauliflower and broccoli. Occasionally there would be a Brussels sprout or a bit of asparagus thrown in for good measure, but it was rare. And other than salad, asparagus and Brussels sprouts, vegetables usually came from one of those cardboard boxes in the freezer. No seasoning. No sauces. Just plain (and dare I say, bland).
I knew there had to be more out there. There had to be some reason why people wanted to eat vegetables. I found it hard to believe that adults would choose to eat such tasteless foods by choice. I've learned that vegetables don;t have to be flavorless, frozen or bland. There is more fruit to the world than apples and bananas. And, most importantly, salmon and swordfish are not the only types of fish to cook at home . . . See? I knew there was more to eating then what I was exposed to.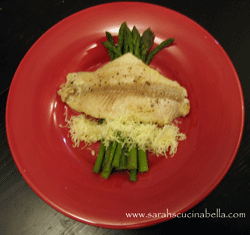 I tried catfish for the very fish time in 2007 and totally fell in love. It's firm, rich and delicious.
But when you think of making catfish, it's usually with a breading or some sort of Cajun spices or some mixture of the two. It doesn't have to be though. Catfish is one of those fishes that can really stand on its own with minimal seasoning.
>This particular method is not only quick and ultra easy, but it tastes so good. It's an easy and elegant dish that would be great for a meal after a long day of work … or when company comes. Will loved it and polished his plate (not bad for a two year old!) while I silently hoped he wouldn't finish his, if you know what I mean. I served it on a bed of steamed asparagus (frozen, from Trader Joe's — another food that can stand on its own), for a low-calorie meal. Yum.
Easy Sautéed Catfish
Ingredients
1

tbsp

olive oil

2

fillets Catfish

sea salt

freshly ground black pepper

lemon juice

2

tbsp

grated asiago
Instructions
Heat olive oil in a medium skillet over medium heat.

Wash catfish fillets. Generously douse with sea salt and pepper. Place in the skillet and saute for about 3 minutes on each side, until the fish is completely opaque and flakes easily with a fork.

Remove catfish from the pan and plate. Sprinkle with lemon juice and sea salt. Place half of the grated asiago beside each piece.

To eat, grab a bit of asiago with each bite.