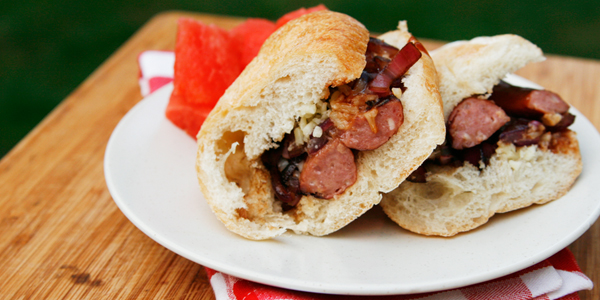 During the last school year, we fell into a terrible habit. Whenever a weeknight was busy, I would pretty much toss my hands in the air and yell "takeout!" Ok, maybe it was more figurative than actual hand flinging and yelling, but ultimately, the result was the same. We spend way too much money ordering food. Takeout was no longer special. Instead, it was more monotonous. Just another thing on another day.
Frankly, if I am going to spend money on food, it better be exciting. As for our budgets, this did nothing to help my husband or I pad our bank accounts. Quite the opposite.
Over the summer, I broke myself of the habit. Even when I didn't feel like cooking, I pushed on. They say it takes 14 days to form a habit (or is it 21?). But pushing through the hardest days — the ones where I was so exhausted from the gym or worn out from a long day of work — helped me see beyond the takeout menu. Why would I spend money ordering out when I am perfectly capable of making good food at home. Especially considering that good food doesn't mean time consuming food.
This Quick Barbecue Cheddar Sausage Sandwiches with Balsamic Onions? It's good food. Sure, you don't want to eat it every day. But as a once in a while dinner to get on the table fast? It's perfect.
If you have 20 minutes, then you have time to whip up these speedy sausage sandwiches. They require about 10 minutes of cooking time (note — you want to cook the onions and sausage at the same time). And then assembly (just a few minutes there). As for the rest of the time? Use it to pull together a side dish or two — such as cut up fruit or a quickie salad.
The key to making this super fast is using precooked sausage. While I was at the Blogher '12 Conference earlier this month, I had the opportunity to sample Hillshire Farm Gourmet Creations sausage, which is a precooked sausage available in several varieties. The Beef & Bacon variety is perfect for this sandwich — but a husky chicken sausage could work as well.
As for the onions? They really don't need much fussing. Heat the pan and the oil, then add the onions and a little salt. Give it a stir and them let them be, stirring just a few times. They will sweat and soften on their own. And while you are doing that, butterfly the sausages and grill them. Since they are precooked, they are ready in a jiffy.
My kids — especially my sausage addict daughter — declared this sandwich a masterpiece. To round it out, I served it with watermelon chunks and a little green salad.
Quick Barbecue Cheddar Sausage Sandwiches with Balsamic Onions
Ingredients
1

tbsp

olive oil

1

red onion

quartered and sliced into 1/4-inch slices

salt

to taste

1

tbsp

balsamic vinegar

1

package Hillshire Farm Gourmet Creations Beef & Bacon Sausage

4

Portuguese rolls

sliced open

1/3

cup

sharp cheddar cheese

honey barbecue sauce

to taste
Instructions
Heat a medium nonstick skillet over medium heat on the stove. Add the oil and heat for 1-2 minutes. Stir in the onions and salt. Cook for 10 minutes stirring occasionally, or until softened and mostly translucent. Stir in the balsamic vinegar and cook for one more minute.

Meanwhile, heat the grill (or a stovetop grill pan). Slice the sausages in half, leaving them partially attached on one side (you are essentially butterflying the sausage). Grill until hot, flipping once -- 3-4 minutes per side.

Now, it's time to assemble your sandwiches. Place one sausage on each roll and top with 1/4 of the onions, 1/4 of the cheese and barbecue sauce, to taste. Close, slice in half and serve.
—————————————————–
Disclosure: This is NOT a compensated post. However, Hillshire Farms did provide me with coupons for free sausage that I used to create this recipe. All opinions are my own.