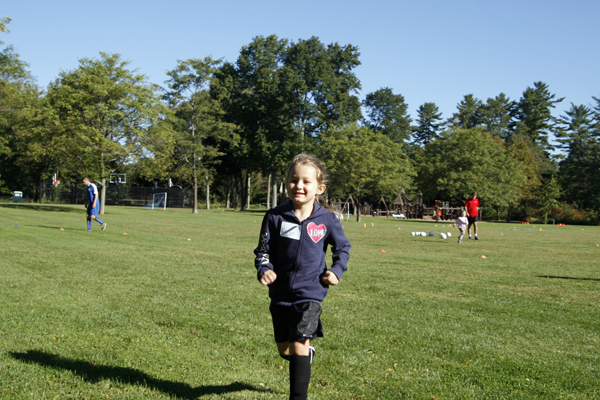 You know what I love about fall? It's a mix of so many great things — warm sunlight, crisp temperatures and breezes, sweet apples and carving big pumpkins, to name a few. And it has Halloween — one of my very favorite days of the year. Yes, it's a pretty awesome time.
And although we are kind of active all year, fall is a time when we are pretty busy running around between responsibilities and our special traditions (like apple picking!). Staying active is so important to being a healthy family. By being active together, it really sends the message to the kids that an active lifestyle matters.
How do we stay active in the fall?
Playing Soccer
Kicking a soccer ball around the yard — or around the field — on a crisp fall day is one of those perfect moments. The cool air fills your lungs and cools your skin. Both my kids love soccer. This is Paige's first year in soccer, but she's totally in love with the sport already. It's really amazing to watch her play and see how much she already knows — just from watching Will play over the years. As for Will, he's in his fourth year of soccer. This year, the practices and drills get a little more focused and the games get a little more intense. He's taking it in stride.
Apple Picking
It's not fall unless the kids and head to the orchard for a day of picking too many apples. It always involves a lot of walking and plenty of apple eating among the trees. I swear, we always pick so many that my arms hurt carrying the overflowing bag. And then when we get home, I wonder how I could possibly use them all. Before I know it, they've gone into pies, turnovers, sauces and more.
Fall Walks
Fall is my absolute favorite times to take the kids to nearby parks for long trail walks. With the leaves changing colors, it becomes an explosion of senses — seeing the bright leaves, hearing the babbling stream, smelling the crisp finality of the season. It's such a pleasure. And even when we don't get to the park, there are so many picturesque places to walk and check out the leaves at this time of year.
What are your favorite fall activities?
I was asked to talk a little about how my family stays active in the fall by Together Counts, a nationwide program whose goal is to inspire active and healthy living.  It's a  first-of-its-kind coalition that brings together more than 200 retailers, food and beverage manufacturers, restaurants, sporting goods and insurance companies, trade associations and non-governmental organizations, and professional sports organizations in this common purpose (to inspire families to eat well and live well).
To learn more about Together Counts and being an active family, join Together Counts at a Twitter party on 10/17 (click to RSVP)  from 8-9 PM EST. Use the hashtag #TogetherCounts to follow along and chat! And be sure to check them out on Facebook and Pinterest while you are at it!
———————————
Disclosure: I am being compensated through the Global Influence Together Counts campaign. All opinions are my own.