Love fish? Cod is a mild-white fish perfect for quick and easy dinner. Here are seven of the best cod recipes to make your next fish dinner excellent.
Years ago, when my kids were very little, one of the first fish I introduced them to was cod. Readily available, inexpensive and mild in flavor, it was a good introduction into the world of fish.
What's more is that this cold-water fish is pretty darn healthy too. Low in calories and high in nutrients, studies suggest that it's food that promotes cardiovascular health, is beneficial for asthmatics and more.
According to World's Healthiest Foods, a 4-ounce portion of pacific cod has 109 percent of the daily recommended intake of vitamin B12. It also has 88 percent of the daily recommended intake of iodine. And it's a good source of selenium and protein as well.
It's also a fast-cooking, mild, tasty fish. But don't just make it plain … here are some easy recipes for dressing up this tasty white fish. What makes these the best cod recipes? See for yourself.
Ready in just 20 minutes, this cod recipe is topped with a buttery cracker-parmesan cheese mixture that sounds amazing. Crunchy topping, perfectly cooked fish, quick recipe … Yes, please!
This recipe for rich well-seasoned cod with a simple lemony pan sauce might sound simple, and it definitely is quick and easy. But the results are mouthwateringly delicious.
What pairs better than white wine, lemons and capers? It's a flavor combination that just works. And in this dish, the creator describes the results as "crisp and clean with slightly sweet, citrus notes." Sounds good to me!
Cod is lightly seasoned with smoked paprika and then served on a bed of white beans, olives and roasted red peppers, for an easy, flavorful dish.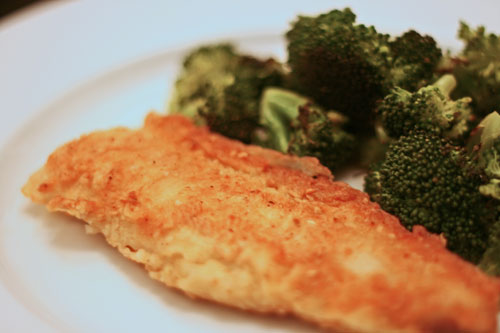 A flavorful, crispy breading surrounds cod filets in this quick and easy recipe for a lightly fried version of this fish. And that's the thing about cod recipes: they are almost always quick and easy because cod cooks so fast.
Cod is lightly seasoned and sauteed before being flaked and tossed with a creamy, homemade alfredo sauce in this easy, kid-friendly pasta dish. Mmm.
Cod, which is such a mild, adaptable fish, gets a big flavor boost from a topping that combines lemon, kalamata olives, caper and sun-dried tomatoes. It cooks in about 30 minutes, so this is perfect for those busy weeknights when you want a delicious, healthy dinner.