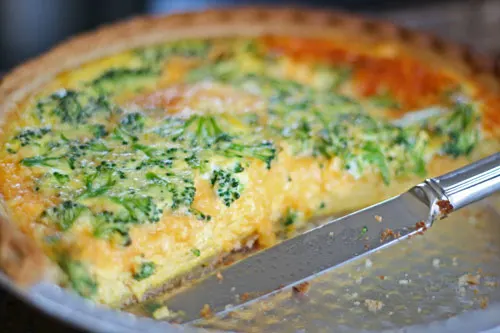 It has taken me years – years – to get to a point where I consistently make the effort to eat breakfast.
The morning meal and I have just never been bosom buds. In the mornings, I am not really that into cooking. I just to burn everything I tried to cook before noontime (fortunately, I have conquered that problem). I've never really been a cereal girl. I used to love oatmeal, but an unfortunate incident involving a medication that I refused to take killed my taste for that, so I don't crave it any longer.
Honestly, if it wasn't for my kids, I would probably have never really bought into the "most important meal of the day" stuff.
Fortunately, I have discovered a few foods that are good in the morning … to me at least. Pancakes, English muffins with delish cheese, tomato jam and an over-easy egg can be a great treat. And any style of eggs can be a good thing in the morning too.
But I prefer easy. Before 11 am, easy trumps all else.
Fortunately, quiche, as fussy as it sounds, is actually really easy. It's, at most, 10 minutes hands-on (less if the veggies are already cooked) and then completely hands-off until it comes out of the oven.
This recipe makes a quiche that is fluffy like a souffle, like little eggy clouds of cheese and broccoli when you bite in. It also reheats really well in the oven, keeping the crust crunchy.
Easy Broccoli Quiche
Ingredients
1 frozen pie crust
1 cup shredded sharp cheddar cheese
2 cups broccoli florets, boiled until tender (psst! save time and use leftover ones from last night's dinner)
5 large eggs
1 cup skim milk
1 tsp salt
a dash of pepper
Instructions
Preheat the oven to 375 degrees and set the frozen pie crust on a baking sheet.
Spread the cheese in the bottom of the pie crust and evenly distribute the broccoli on top of the cheese.
In a medium bowl, whisk together the eggs, milk, salt and pepper, until completely combined.
Pour the egg mixture into the pie crust, evenly distributing it.
Place the pie crust on the baking sheet into the oven and cook for 40-45 minutes, until cooked through. You can test its doneness by sticking a knife in the center. If it comes out clean, then the quiche is done.
Notes
REHEATING: This heats up well in the oven - 350 for 5-10 minutes. Check it frequently.