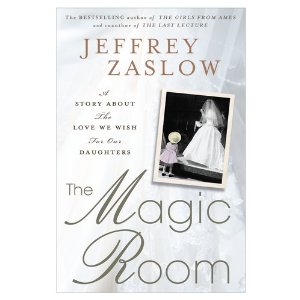 Reading is one of my favorite activities when I want to relax (don't we all need a little relaxation sometimes?). There's nothing like curling up with a good book and a delicious snack to really make a weekend afternoon special. Oh, and my favorite fuzzy green blanket. It's so comfy.
Recently, I read Jeffrey Zaslow's' The Magic Room as part of the BlogHer Book Club. The book is about a family-owned wedding dress shop in Fowler, Michigan, called Becker's Bridal. One of their key features of the shop is the so-called Magic Room — a former bank vault turned special viewing room where women who've found the dress can view themselves. Zaslow describes the room as a hallowed place where stepping in there just seems to take people's breath away and quiets voices. It is truly magical.
Yes, Becker's is a real place. And yes, this is a true story about the women who've bought dresses there and the family that has owned the store for generations.
What I enjoyed about the book was that it followed several people — both brides and the family that owns the store — bringing their stories full circle. You weren't left with burning questions about what happened to the women who you were introduced to in the early part of the book. That's a really good thing. Also, this wasn't a bunch of stories of perfect brides and perfect grooms, but real things — like the feelings of being an older bride and what happens when something terrible happens before the wedding (don't worry, that wedding does happen).
But this wasn't my favorite book. The style of presentation, which introduced bride after bride and then later revisited them, had a disconnect that left me trying to piece together who was who. Also, it wasn't the quickest read. Honestly, I felt like the first few chapters just dragged — they were repetitive in their descriptions of the store's founding family. As the book progressed, the pace did pick up though. It was a very welcome thing.
So, would I recommend it? Maybe. This would be an entertaining read if you are a bride-to-be or if you are interested in weddings, family-owned businesses or obsessed with those TV bridal shows. Want to know a little more? Be sure to head over to The Magic Room's page on the BlogHer Book Club and join the discussions about dress shopping, this book and more while you are there.
Disclosure: I am compensated by BlogHer for my participation in the BlogHer Book Club however that didn't influence the content of this post — beyond the book discussed.