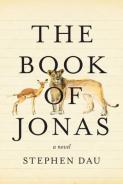 At the beginning of 2012, I set all sorts of goals for this year. Among them was to read 52 books. Guess what? I am well on my way to meeting that one. So far, I have read 13 books, polishing off the latest selection by the BlogHer Book Club this evening. That book is The Book of Jonas by Stephen Dau, an interesting but haunting read.
What can I say about this book?
The Book of Jonas is a story of a boy in an unnamed Muslim country who loses everything when his village is attacked. He survives by a stroke of luck and ends up going to America where he lives as a refuge with a family in Pennsylvania. The book follows the boy, Jonas, as he grows and changes. He heads off to college on a scholarship and falls in love as well. But there's an undercurrent of knowing that something isn't right.
I had a hard time getting into The Book of Jonas. The book is told in halting prose, drawing on repetition and skipping freely between perspectives, times and places. There are flashbacks woven between passages that reflect Jonas's internal struggle and need to escape his truth. It felt disjointed at first. Then it felt uncomfortable. But at some point, I found myself curling around my Kindle and settling in to read just a few more pages.
I don't know what it was about this book — perhaps some emotion elicited by the author? But I am happy I read it. It's far heavier than the light escapism novels I gravitate to. But that's okay.
Look, this isn't the feel good book of any time period, but it's an eye-opening look at life and loss. It's worth reading.
Be sure to see what others are saying on the BlogHer Book Club page for The Book of Jonas.
Disclosure: I was provided with a copy of this book and compensated for my review. All opinions are my own.