Want to up the ante on your holiday decor? Check out these 10 DIY Glittery Holiday Decorations!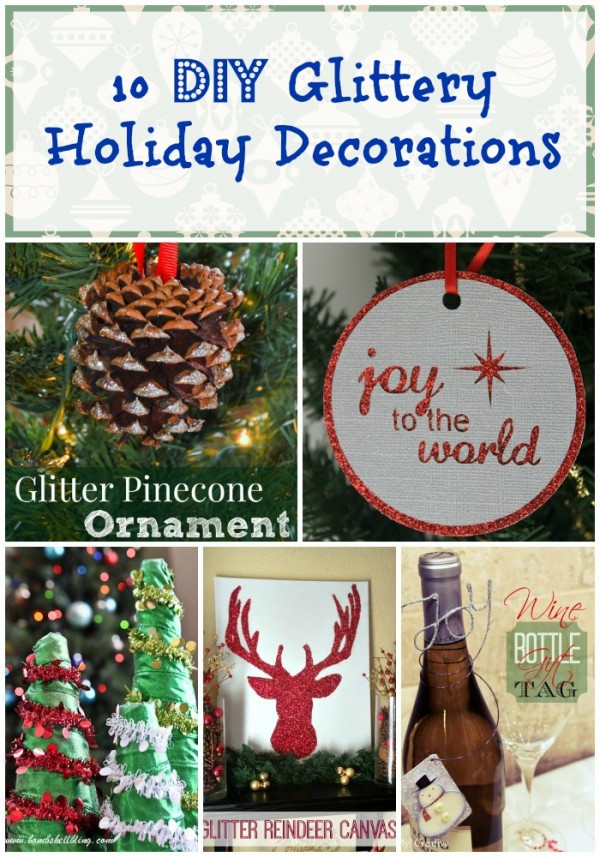 Earlier this week, I popped open the first of our holiday decorations boxes. The reds, greens, whites and glitter of the holidays were inside. Out came the mistletoe and Santa. Up went the Happy Holidays sign and glittery ball garland. And the nutcracker and A Christmas Carol music box found homes in our living room.
And that was just the beginning.
This weekend? I will erect our tree (yes, it's a fake — I have a tree allergy) and out will come the remainder of the decorations. I might put up our second (and third?) tree too — but we'll see. It depends on space, really. But at least one tree will go up. Then the kids and I will trim that tree on Sunday … and maybe watch a Christmas movie too.
I can hardly wait. There's just so much joy in the holiday season — it's awesome.
Have you started decorating for the holidays yet?
10 DIY Glittery Holiday Decorations
1. Glittered Canning Jar Ring Candle Holders by Just Us Four
2. Glimmering Foam Trees by Bombshell Bling
3. Glitter Wire Wine Bottle Gift Tags by OhMy! Creative
4. Glitter Candy Cane Ornament by Simply Kelly Designs
5. Glitter Twine Ball Ornament by The Thinking Closet
6. DIY Glitter Reindeer Canvas Art by Inspiration for Moms
7. Glitter Pinecone Ornament by Typically Simple
8. Glitter Gift Tag/Ornament by Occasionally Crafty
9. Sparkly Santa Sign by Bombshell Bling
10. DIY Glitter Glass Star Garland by Create and Babble