One of the scariest parts of being a writer is sharing myself with strangers. It's intimate and personal, but also important. It's what makes writing worth reading.
Sure, I could stick to the story of how I came to make these bars. It's topical and fun. It shows how sometimes an enthusiastic response is all we need to encourage us to try something new. But that's surface-level stuff. It doesn't get the heart of anything, or share an inner story that will elicit a heart-song of "me too."
And really, I want that "me too."
Anyone can find a recipe, have their friends and colleagues go crazy for the idea of it and then make it. And then anyone can tell that story. But not everyone can spin that experience into something deeper, greater and more visceral.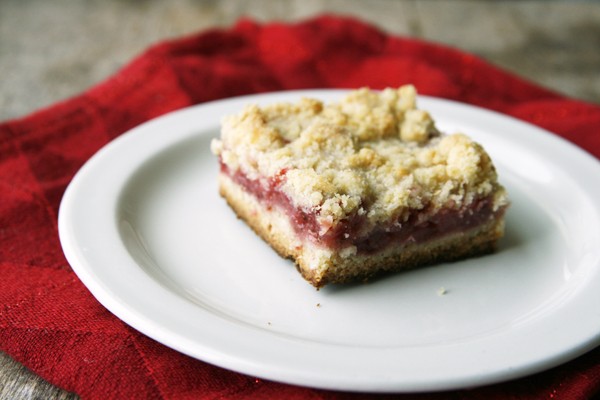 At the surface level, this all started with a picture in my Facebook newsfeed. Delish had shared it — a photo of strawberry crumb bars. I love strawberries. And I love crumb bars. So I shared it too and said something about wanting to make them.
Next thing I knew, I was fielding comments and texts urging me to please make them. Apparently my friends and colleagues were in total agreement.
But on a deeper level, it was the strawberries that caught my attention. Strawberries have been my favorite fruit since childhood, when my family would pluck warm berries from the farm and pile them into baskets at a nearby Pick-Your-Own farm.
As a young child, I did more sampling than collecting of berries. Inevitably, I'd leave the dusty, dry field as a walking billboard for over-indulgence, covered in thin streams of red, sticky juice. My clothes — which often couldn't stand up to the brutalities of strawberry debris — would be stained red too. I remember looking down at my white sneakers and wondering how I managed to get them all red and tan from the juice and dirt.
Despite the discomfort of the mess (yes, I hated the sticky berry aftermath), I savored those trips to pick strawberries. When we'd leave, I'd be sporting a full belly and a big smile, having enjoyed every last bite in the open field with the hot sun beating down. And those berries? They'd become a snack later — my grandmother would set out a bowl of powdered sugar for me to dip the berries in. Yum.
So that's how I ended up covered in flour on a Thursday night, spreading saucy red berries into a pan and crumbing dough on top, before baking to perfection. One look at the picture of the bars, and something had clicked for me. They reminded me in a tangental way of childhood and giggles and warm berries eaten in the fields.
The recipe was so easy. In less than 10 minutes, I was sliding a pan into the oven and it wasn't long until the fragrant, buttery, sweet confection was perfuming my house. Everything about this recipe was just right — the speed, ease and the resulting bars.
So make them. And share. Half of this tray went to my office where they disappeared almost instantly. The rest were devoured too — at home and by other friends. Every bite was worth it.
And if you are writing, remember that there is more to writing than just sharing the obvious. Dig deeper. Share your memories and experiences. Add details. You want others to both be able to picture what you are talking about — and relate in some way. That is what makes writing stronger, more intimate. And that is so worth it.
Want the recipe? It's on The Bakery Upstairs.
(Why am I not including it here? I made it exactly as printed there, so sending you to the source is the best way to share it. Thanks!)