"Hi, Coach!" A girl with arrow-straight brown hair cut into a bob smiled broadly at me. I was manning a table at an event. She was attending with her family, and she was talking to me: her soccer coach.
Of the many titles I've accumulated in life, "coach" was one of the most unexpected for me. But hearing it makes me smile broadly too.
This past fall, I coached my daughter's soccer team. It was my first time coaching, my first time involved with competitive — well, as competitive as recreational soccer gets for 8-year-olds — soccer and my first time involved with a team sport. Ever.
All of this, I'd reasoned in the past, made me an ill fit to ever coach anything. But when an email plea went out over the summer, asking for more soccer coaches to fill a critical void, I hemmed and hawed a bit before finally volunteering.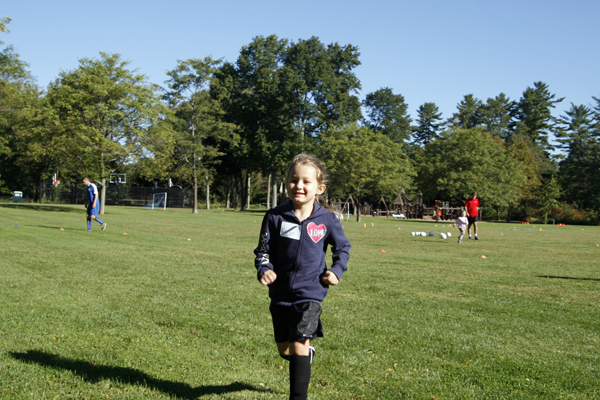 It was scary, and honestly a part of me hoped I'd either be paired up with an experienced coach or that I waited so long there'd be no need for me. I mean, sure, I have spent countless days at the soccer field over the past more than six years with both my kids (the photo above is of Paige playing at age 5 — three years ago). Could that be enough soccer knowledge? Ultimately. I was quickly accepted to be a coach, and assigned my own team: Heat. Then I bought a book to help me get a handle on the basics of holding a practice.
I felt so in over my head, but I kept on because I'd committed to coaching and wanted to do it.
Thankfully, I wasn't alone. With the help of an experienced soccer player, who kindly offered to help me coach practices, our team had a number of wins — and some losses too. But what I really noticed over the course of the season was how the girls learned to work together a little better, to rely on each other a little more and to play their positions a little better. In our last game, we replayed the first team we'd played. That first game had been painfully bad — a loss that left some of the girls disheartened. But we kept going, week after week, talking about what worked and what didn't, and working on different skills. In our final game, we lost again — but it was different. We'd put up a big fight, the game was close and there were some really great plays by our team. It was like seeing growth in action. Our team didn't win, but they'd come together in a way that was a win in of itself.
Volunteering to coach scared me. I didn't think I would be useful to a team without a sports background to support it. But after six weeks of practices and games, countless lessons taught on and off the field and one little girl saying "Hi, Coach," whenever she sees me, I am so glad I volunteered. Frankly, it turned out to be one of the most rewarding things I did this year. Not only did it drag me far from my comfort zone, but it also helped me to see how lessons taught in soccer practice aren't always about how really to shoot a ball or block a goal but how to work together, to trust one another and to strive to do better. Likewise, in life, sometimes the little things we do have bigger lessons in a broad context.
When Abbott approached me about helping to spread the word about their Abbott's LIFE. TO THE FULLEST. mission, I immediately thought of my experience coaching this fall. Living life outside my comfort zone is how I life fully — it's my own #fullospophy, if you will.
See, my children inspire me. With them in mind, I challenge myself to do the things that scare me most — from participating in activities outside my comfort zone to volunteering to coach or lead things for them that I personally haven't done before. Living this way makes my life so much richer with experience. Coaching soccer sure did. And I hope someday, perhaps when they have families of their own (if they choose to), they'll remember how I volunteered in their schools, coached soccer and more, and they'll want to give back to their world like that too. I hope they'll see how rewarding it is to live your best life in this way.
Hop over to Abbott LIFE. TO THE FULLEST quiz, for a little help determining what fulfills you most. For me, it's being an active part of my life, my kids' lives and our community.
Now, tell me … how do you live your best life?
I was selected for this opportunity as a member of Clever Girls and the content and opinions expressed here are all my own.