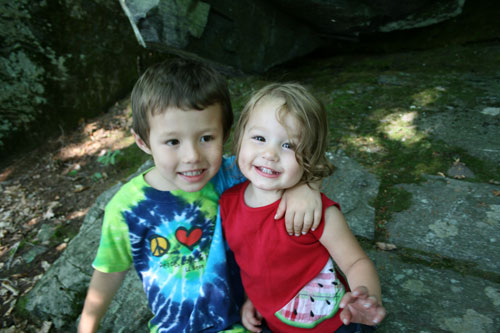 Last week, I told you all that we were headed off for a few days of camping and promised details upon my return. My apologies for the delay. I have some big new things happening in my life (more on that tomorrow!) and was bogged down with work from the moment I arrived home.
But now, I am caught up, cleaned up and ready to get back into the groove of things.
So, here's the scoop.
The campground we went to was called Ross Hill Park. It was a nice, family-owned place where people can rent slots for their RVs, pop-up campers, or their semi-permanent trailers. There are also three log cabins for rent.
We opted for the latter, seeing as we don't own a tent, camper or anything like that. And yes, we really did cram everything into my teeny Honda Civic — the bigger of our two cars. See?
You should have seen the trunk. I was a packing genius.
So, the log cabin was two rooms — one with a bunk bed and one with a full size bed. No bathroom (there was a bathhouse about a quarter mile away, which isn't too far really). Will slept in his sleeping bag on the lower bunk and Paige slept in her Pack 'n Play. We had a mini fridge to store food in, as well as the cooler we brought.
For cooking, we had this grill. It was a beast. The starter didn't seem to work, so I had to light it from the side — which was disastrous the first night when I left the gas up all the way.
Think big flames.
But I quickly learned the ways of this contraption and was able to cook most of our meals on it (including oatmeal … which I had to serve on paper plates and dish out with tongs. Seriously, who knew that tongs were so versatile?? As they say, necessity is the mother of all invention.
While we were there, we had a lot of fun. I'd brought a big roll of paper that we rolled out on the picnic table and colored on. Great times.
And we had Playdoh, which became duck bills, pig snouts, bowls and more. Shawn and I had as much fun as the kids playing with it … the animal noses were his idea.
We also hiked … which was interesting with a toddler who is not yet two. She was a trooper though and really loved being allowed to walk (as opposed to stroll in the stroller). I swear, Paige must have smiled the entire time.
Will too — he's definitely a fan of hiking.
She and Will also loved swimming in the manmade pond, which was only about waist high — perfect for their little bodies. They could actually stand up in most of the pond, which made it fun for all of us since there was less to be concerned about (and they, of course, wore life vests the entire time).
At night, we roasted marshmallows and ate s'mores around the campfire (seriously, that's a requisite of camping, isn't it?). Frankly, the fire with the little kids freaked me out a bit. But they were really very good about it and learned the rules quickly (ie: stay away from the fire, walk behind the chairs, not in front, etc).
And I would be remiss not to say that Shawn quickly learned how to build a fire — something he'd never done without a starter log before. He did a great job building and managing it.
All in all, it was a great little escape. The kids had a blast. We played, we ate and we had a lot of fun. It's definitely something we'd do again. This was a test run to see if we could handle an excursion like this for a full week in a far off place. I think we definitely could.
So, catch me up: how was your week?