There are no less than six kinds of salad dressing in my fridge right now. We love salad (my six-year-old son took it to school today for lunch happily — it's his favorite). They range from creamy ones that my kids adore to four kinds of vinaigrette, which I love. The problem is finding ones that taste the way I want them to. I am notoriously picky about salad dressing flavors, so I'm on a constant hunt for ones that I love and fit my wants (pronounceable ingredients, for instance). It's hard.
Recently, I was asked to try and review Marzetti's new Simply Dressed salad dressing here on Sarah's Cucina Bella. I am familiar with the Marzetti brand — my husband loves their jars of blue cheese. But this new line seems tailor made for me: simple ingredients, good flavors … and fresh. But would I like it?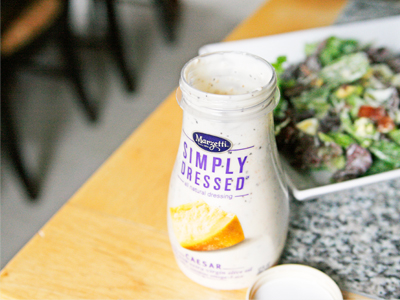 I ended up going simple with my choice of which dressing to try: Caesar. Though there's a big variety available from the Simply Dressed line, I chose to try Caesar since it's a classic that I would love to have a ready-made version favorite. I often make my own Caesar dressing because I don't think many bottled ones are very good. So, if I liked this one it would really mean something big.
The first thing I noticed about Marzetti Simply Dressed was how ridiculously hard it was to open the bottle for the first time. At one point, I nearly threw in the towel because the lid just wasn't budging. In the end, I had to run the top under warm water and it finally moved. Fortunately, the problem was only when I opened it for the first time. Also, the bottle is made of plastic — not glass like the Marzetti dressings I am used to. I would have preferred glass.
All of that aside, the flavor is what matters most. And guess what? I loved this. The flavor was perfect — nuanced and balanced, as it should be, without an unnecessary whack of acidity that I have found with some bottled Caesars. Also, the creaminess? It was just right. A little goes a long way too. I found that one tablespoon was enough to dress a whole lunch-size salad.
It was perfect on my Loaded Caesar Salad — so perfect, in fact, that I ate it two days in a row. I never do that with any salad or dressing. If I wasn't out of lettuce, I would have another right now.
And yes, I will be buying this again. For sure.
I was one of the bloggers selected by T. Marzetti Company and Clever Girls Collective to host a Marzetti Simply Dressed review. They provided me with product to test myself and compensation for my time. However, my opinions are entirely my own.