I participated in a campaign on behalf of Mom Central Consulting for Heluva Good! I received a product sample to facilitate my review and a promotional item as a thank you for participating. All opinions are my own.
We're not a family that does sandwiches for lunch everyday. We like sandwiches — and some days, there's nothing I want more than a great sandwich from one of the amazing delis in our own. But everyday? Nah. No, the kids — and Shawn and I — like to change it up. Will often requests salads for lunch. Paige adores soups. Everyone is up for midday pasta. And sometimes, we have a load of veggies (and maybe a little dip). Variety is nice — especially when that variety can be packed up and toted easily to school.
When Mom Central asked if I would try Heluva Good!'s new line of dips, I figured why not? This could be something that the kids might like for school. And if it works for lunch boxes … well, you probably want to know about it too, right?
Right. Onward.
This wasn't my first time trying something from this company. I've had Heluva Good! cheese before and enjoyed it. But I've never had their dips and other products. The Greek Style Yogurt Dips are a new line, which is lower in fat and calories than hummus (according to their website). Heluva Good! Greek Style Yogurt Dip comes in four varieties: French Onion, Herb Ranch, Southwestern Chipotle and Fire Roasted Vegetables and we got to sample all of them.
So the dips. They are creamy dips that work with chips, veggies, whatever. I probably wouldn't use these as a spread since they are a little looser — but they might work in a big veggie wrap. We didn't try them like that though.
Instead, the kids and I tried their dips on tortilla chips. I figured it was a good way to really get the flavor since the chips tend to take a back seat to whatever you are dunking them into. Anyway, so we tried them. And guess what? We enjoyed them.
The kids both really liked the Fire Roasted Vegetables dip the best — that's the one they requested more of (and are hoping I will send to school). There was something about the pieces of veggies in the dip that really added to the flavor and made it really appealing.
Me? I was really pleasantly surprised by how much I enjoyed the French Onion dip. I generally enjoy French onion, but I wasn't sure how the Greek yogurt flavor would impact it for me. But it tasted just like the traditional dip I am used to (a very good thing). I could definitely see myself dishing out a little of that dip for lunch when the kids are at school. I also really enjoyed the Southwestern Chipotle, which would probably be great for dipping spicy burritos into.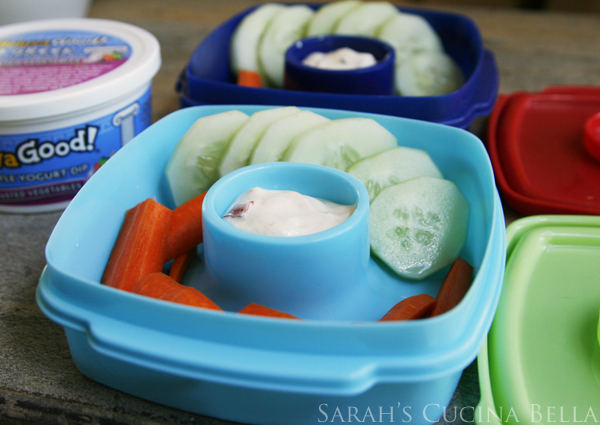 These dips are perfect for packing in the kids' school lunches with veggies too. The kids liked them with cucumbers and carrots, but bell peppers and cherry tomatoes would be good too. And maybe a few tortilla chips for fun. Maybe.
These dips are available at supermarkets nationwide. Keep a eye out for them. If you are a dip-lover, you will probably really enjoy these too.
We did.