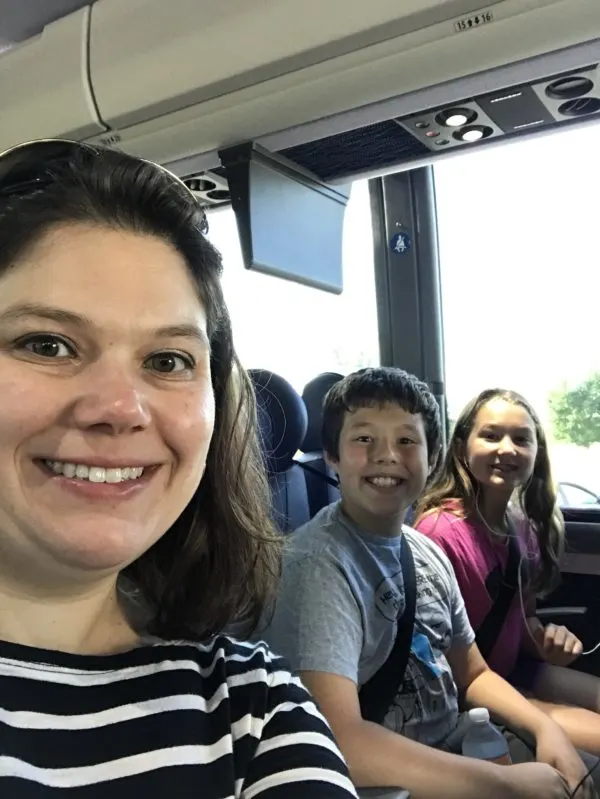 It's an early morning when we board the coach bound for Boston. The bus is clean, with blue fuzzy fabric covered seats.
There's plenty of free seats. My daughter selects a row close to the front, two seats together for she and my son, one across the aisle for me.
We settle in. Headphones in the jacks, breakfast on our laps, drinks in the cup holders. It's a four hour journey from Bangor, Maine, to Boston, Massachusetts, by car without traffic, and a little longer by bus.
And so, our journey begins.
The first time I took my kids on a bus — not the city transit kind, but the long distance kind — was last winter. We were headed to Boston — partly by bus, partly by train — and the simplicity of public transportation was really appealing. It worked out. I didn't have to contend with the long drive or city traffic, and we had an enjoyable trip.
Bus travel has become part of our repertoire for traveling through the northeast. A little grittier and way more affordable, traveling by bus is a convenient alternative to being the only driver during a four- or six-hour trip.
It's also quiet and relaxing. A movie plays — sometimes two if you're on a long trip — and you can watch or not. There's also WiFi, at least on the buses we take.
Sharing seats with strangers isn't super fun, but it's generally ok. On one trip, I wrote in my travel log "sharing a seat wasn't so bad. The woman next to me kept to herself — and her companion across the aisle."
Of course, sometimes it's not so simple. On one trip last year, the "babe" to my seat mate was quite put out that they couldn't sit together when they were the last to board. If I was traveling along I would have switched seats, but when traveling with my kids I like to be close to them. Giving up my seat just wasn't an option.
Things to Know about Traveling by Bus with Kids
Seats are usually in pairs — so decide who is sitting with whom before boarding. For me, traveling alone with my two children, I always have my kids sit together.
There's a bathroom. But it's not particularly spacious or cozy. Think airplane bathroom … on wheels. It's handy though.
You may have to sit with a stranger. But it's okay. Try to choose your seats wisely. I prefer an aisle seat next to my kids. I avoid letting my kids sit with strangers.
You can eat on the bus. But you don't want whatever you're eating to be particularly smelly or messy. It's key that you plan ahead for eating. There likely won't be an opportunity to get food along the journey, so pack snacks (or meals!). And don't forget the drinks too.
You (and the kids!) need something to do — headphones, books, games, notebooks and pens, pencils or similar for writing or drawing.
Do you travel by bus? Any things you'd add to my list?