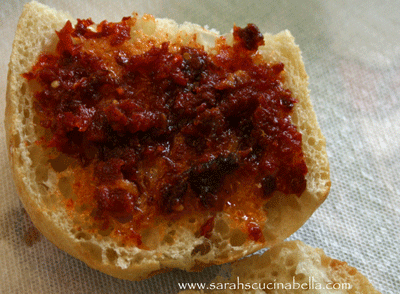 I love pesto. I make a million different variations of pesto. Pesto is my friend. Unfortunately, my husband isn't as fond of it though. Too bad for him. But, that means more for me (and Will).
Pestos are great to use on sandwiches, in pastas, on toasted breads, on vegetables … oh, there are a million great applications. This particular pesto is as simple as it comes, but it was fantastic on a sandwich I made the other day (more on that later this week).
Truth be told, this isn't really a pesto though. According to The New Food Lover's Companion, a pesto is an uncooked sauce made from basil, garlic, pine nuts, Parmesan or Pecorino cheese and olive oil. In Italian, the word pesto literally means pounded (as in the process for making the traditional pesto sauce. So really, this recipe doesn't qualify as a true pesto. After all, it's missing all of the ingredients, save the oil. Nonetheless, Simple Italian Sandwiches calls it a pesto.
I guess this is just an example of how the vocabulary of food is an ever changing entity. It doesn't have absolutes. Definitions are expanded and changed. Sometimes there is a call to return to classical definitions, sometimes the food community just goes with it.
In this case, I am just going with it . . .
Whatever you want to call it, the sweet sun-dried tomatoes in oil are a tasty condiment. And I have big plans for the leftovers.
Other pestos from Sarah's Cucina Bella:
Sundried Tomato Pesto Spread
Spinach Pesto Sans Garlic Spread
Olive Pesto Hummus Dip
Basil Mint Not Pesto Sauce
Simple Sundried Tomato Pesto
From Simple Italian Sandwiches by Jennifer and Jason Denton and Kathryn Kellinger
Ingredients
4 ounces sundried tomatoes (dry-packed, not oil packed)
1½ cup extra virgin olive oil
Instructions
Roughly chop the sundried tomatoes. Put the tomatoes into a medium bowl and pour olive oil over. Let sit for 15 minutes.
Put the sun-dried tomato mixture into a food processor and pulse until its paste-like. Mine still had some serious chunks in it, but I like it that way.
Place in an airtight container in the refrigerator and use within one week.