Lightened Up Raspberry Applesauce Pancakes are moist, light, fluffy pancakes dotted with tart, juicy raspberries and lightly sweetened with agave nectar.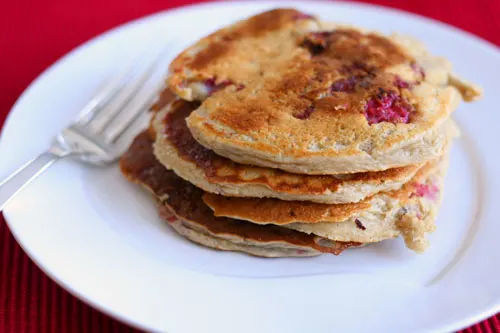 If you are what you eat, then my four-year-old Will is a moist pancake with berries. To say he loves pancakes is like saying that the sun is lukewarm. Will's devotion to pancakes is unreal. If we let him, Will would have a big stack of pancakes every single morning. But, that wouldn't be good for him to have every day (and the rest of us aren't quite as fanatical about pancakes as he is) so we don't.
That said, we do eat a lot of pancakes. I swear, Shawn and I can practically whip up batches in our sleep.
But while pancakes aren't that bad for you, they have some room for improvement. Do they really need the oil? Nah. The good old applesauce in place of oil trick works great — and delivers moist cakes. Do they need refined sugar? Nope. Agave nectar, a natural sweetener made from the same plant used to make tequila, works fine and supposedly is a little better for you. You could also trade the egg for egg substitute, but I prefer real cage-free eggs.
Lightened Up Raspberry Applesauce Pancakes are moist, light, fluffy pancakes with a nice contrast of ever-so-slight sweetness from the agave and tartness from the raspberries. I like mine topped with a drizzle of Grade B maple syrup from a local farm, but a sprinkle of powdered sugar could be delicious too.
How do you like your pancakes? Share!
Lightened Up Raspberry Applesauce Pancakes
Ingredients
1 large egg
1/2 cup unbleached all purpose flour
1/2 cup whole wheat flour
3/4 cup milk, I recommend using nonfat
1 tbsp agave nectar
2 tbsp unsweetened applesauce
1 tbsp baking powder
1/4 tsp salt
1 cup frozen raspberries
Instructions
Add the egg to the bowl of a stand mixer and beat until it's foamy. Add all the other ingredients, except the raspberries, and mix until just combined. Scrap down the sides of the bowl, add the raspberries and beat once more.
Use an ice cream scoop to drop batter onto a hot griddle. Cook until golden brown on both sides, flipping once.
Serve hot with fresh maple syrup.