"Mommy, tomorrow is hog day!" Will told me excitedly last night.
Now, Will is a smart boy who tends to remember everything (no, really, everything … he brought up a great time he had with our cousins in the summer two years ago this past week. The boy is four and a half – how did he even remember that?). So, it was safe to assume that he heard about this hog day somewhere … the question was where and what exactly was it.
It took me a good minute or two before I put one and one together …. Groundhog Day.
Right. So, today is Groundhog Day and Punxsutawney Phil saw his shadow. Great! Thanks, Phil! That means, according to the lore, that there will be six more weeks of winter. Oh yay. Just what I wanted to hear on this dark, dreary day. Aren't you excited?
Eh, the weather might be a bummer, but this dip is bright and sunny and so, so tasty. Will said that it tasted like frosting and was yummy. I'm not sure about the frosting part (maybe a cream cheese frosting? Sort of?). Meanwhile, Paige, 2, couldn't stop eating it. She would have licked the bowl, if I let her. (Don't worry, I didn't! I swear!) But, heck, I couldn't stop eating it either.
It's pretty simple to make (just three healthy ingredients!). I used a low-fat yogurt, but you could use full fat, Greek, whatever you like … Just add, stir, serve … does it get any easier? Plate it up alongside some sliced apples, mini waffles or whatever else you can think of and go to town with dipping. Or just grab a spoon and eat it … It's really delish.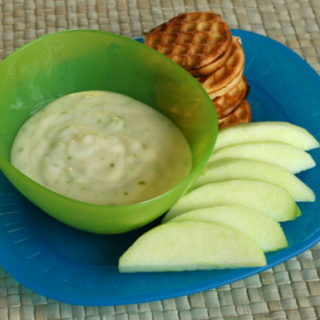 Honey Lime Dipping Sauce
This sweet-tart dipping sauce is perfect for enjoying with fruit. Why not try Honey Lime Dipping Sauce today?
Ingredients
1 6-oz container vanilla yogurt
1 tbsp honey
zest of 1 lime
Instructions
Combine all ingredients in a small bowl. Whisk together until thoroughly combined.
Serve with fruit, cookies or pretzels for dipping.
Nutrition Information:
Yield:

2
Serving Size:

1
Amount Per Serving:
Calories:

114
Total Fat:

1g
Saturated Fat:

1g
Trans Fat:

0g
Unsaturated Fat:

0g
Cholesterol:

4mg
Sodium:

57mg
Carbohydrates:

24g
Fiber:

1g
Sugar:

21g
Protein:

4g