Did you watch Jamie's Food Revolution? The show followed Jamie Oliver as he sought to change the way people in Huntington, West Virginia, eat. Huntington, which was recently named the fattest town in the country, responded with some resistance. However, with Oliver's persistence, school lunches went from frozen processed foods to healthier, fresh meals. As for the people of Huntington? He won many over and introduced so many to easy cooking.
The show did a lot of good — not just for that one town, but for the many, many people who turned in, started talking about it and began taking steps to free their eating from the clutches of unhealthy, fattening foods. I hope there ends up being a second season.
Last week, my husband, knowing that I religiously watched the show, bought me a copy of Jamie's Food Revolution: Rediscover How to Cook Simple, Delicious, Affordable Meals. This new cookbook from the man famously known as The Naked Chef is a thick book of recipes with photos galore. The dishes range from British Beef and Onion Pie to Crunchy Garlic Chicken to Mini Shell Pasta with a Creamy Smoked Bacon and Pea Sauce, which is what we tried tonight.
When I was putting together our meal plan for the week, I selected this pasta since it's fast and filled with flavors that my family adores.
You start by chopping bacon while heating a pot of water to boiling. Typically, I use frozen bacon for something like this. However, since you are cutting such a mass of bacon, using a refrigerated stack and a super-sharp knife works great.
Then you remove mint leaves from their stems and chop them to bits. I was obscenely happy to use this mint from my garden. It's been growing like crazy and I am so ready to use it. Wonder what else I can do with it (suggestions?) …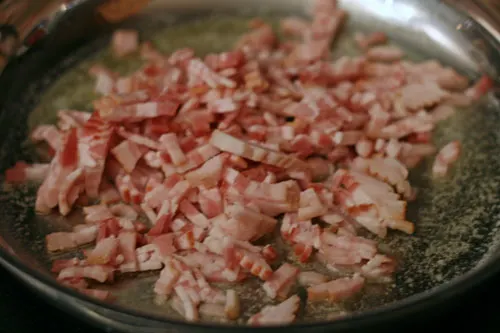 Then the bacon is cooked in … a little olive oil and butter. Yea. Because bacon doesn't have enough natural fatty lubricant? You toss in the peas, mint, pasta and a little heavy cream. Mix in the parmesan and serve.
The flavor of this dish? Really good. We'll have this again, although I think next time I would make a few alterations:
Cut back on the fats. Honestly, I'm not sure that I would cook the bacon in oil and butter again. It seems like too much fat. Instead, I would let it cook on its own and add a touch of the pasta water to make the sauce more liquid.
Change up the timing. I followed the directions for this recipe, and the timing was a little off — next time, I would start the bacon cooking before the pasta goes into the water, instead of after (as the directions suggest).
Reduce the cheese. I love cheese as much as the next girl, but 6 oz is a lot … I think 4 oz could do the job.
Season to taste. Aside from the salt in the pasta water, this recipe doesn't call for any salting … I think seasoning to taste at the end with some sea salt and a touch of pepper brings out the flavors in this amazingly … so that will definitely happen next time.
As for the cookbook? I will definitely use it again. This was a really tasty recipe. My daughter Paige didn't say a peep all through dinner — she was too focused on gobbling her bowl up. It's good stuff.
My one big complaint? I really hate the way the directions are presented — they are in one continuous paragraph with mid-paragraph bulletpoints to differentiate one step from another. That makes it somewhat hard to follow.
The directions in this New York Times reprint are better than those in the book. Click on the link for the recipe (with a print option!).