An inside-out onion roll is the perfect base for this grown-up Grilled Cheddar and Ham Sandwich recipe. This is childhood comfort food turned up a notch.
Everyone has their own quirky little stories about being kids, myself included. But one that always makes me smile has to do with food.
When I was a really little girl, there was only one thing I wanted to eat when we'd occasionally get Burger King for lunch: a grilled cheese.
Yes, they actually made it.
No, grilled cheese wasn't on the menu.
Yes, that was ridiculously picky of me.
Basically, my grilled cheese at Burger King was a hamburger bun, turned inside out, and cooked with a slice of American cheese in the center. A cheeseburger, hold the burger if you will.
Since it's National Grilled Cheese Month, this seemed like the perfect time to share a fabulous grown-up grilled cheese recipe, made with a technique from that special grilled cheese of my childhood.
Out is the plain roll in favor of an onion roll. Out is the American cheese, in favor of sharp white cheddar cheese. And in is a little ham.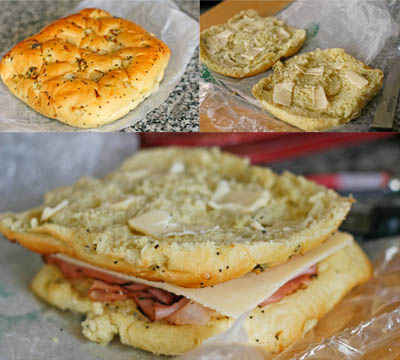 Like that grilled cheese of my childhood, I sliced open the onion roll, flipped it inside out to make the sandwich. Then I cooked it like any other delicious grilled cheese. It was amazing … sweet bits of onion, sharp melted cheddar cheese and a little hearty, sweet ham.
It's so simple, yet so good. And by using the onion roll, it's as if I caramelized some onions to include in this too. Score!
So, tell me what childhood quirks you had?
Grilled Cheddar and Ham on an Onion Roll
Ingredients
1 onion roll
butter
3 slices sharp cheddar cheese
2 slices thinly-sliced deli ham, (recommended: Boar's Head Maple-Glazed Honey Ham)
Instructions
Heat a nonstick skillet over medium heat.
Slice the onion roll in half, and butter the inside-side of both halves. Turn one over and layer 1 slice of cheddar followed by the ham and 2 slices of cheddar. Top with the other half of the roll, butter side up.
Cook the sandwich until golden brown on both sides -- about five minutes, total.
Serve.