Quick, easy and delightful, this recipe combines juicy tapenade, cool hard-boiled eggs and salty prosciutto in an open-faced sandwich.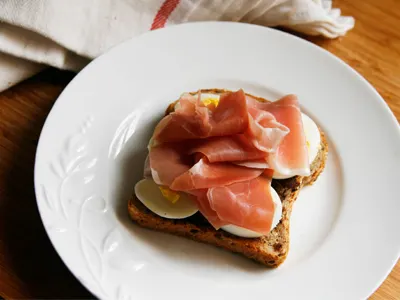 Last year, Will repeatedly came home from school requesting "eggies" for lunch. Aside from being clearly somehow related to eggs, I had no idea what he was talking about. I tried to have him describe the eggs he wanted, but I was just baffled. Finally, I emailed the mother of the girl who was bringing the "eggies" and asked what they were. Hard-boiled eggs. Who knew?
These days there are a lot of eggies in our house. We eat them a lot — on salad, chopped in sandwiches and all sorts of things. In fact, the kids had them for breakfast today with clementines and toast. Based on their clean plates and excited woots, I think they liked them a lot. But these eggies on an open-face sandwich? They are all for me … just don't tell the kids. Oh, but we don't call them eggies. That just seems silly.
We'll get back to the sandwich in a minute but first …
It's Eat. Live. Be. Reboot day and this week we are turning to the internet for inspiration. Or was it magazines? Depends who you ask. We're having a little trouble keeping these things straight. Anyway, whatever our theme was, the ELB girls have some great posts up already. Cate wrote about confidence — and the importance of taking care of you first. Joanne is talking about the dreaded (but missing) January Joiners and a mouthwatering Thai recipe. Patsy is chatting all about the veggies and one of my favorite cooking magazines — Cooking Light.
As for me, I'm the straggler this week. It happens.
My internet inspiration this week comes from a sign I ordered from Etsy recently. It bears a quote that I hold near and dear to my heart: Life is not measured by the number of breaths we take, but by the moments that take our breath away. I discovered it shortly after my friend Elayne passed away. It speaks to leading a happy, well-lived life, which is something that I want to do more than anything. It's about not wasting time with things that don't matter. It's about really living — and not saying no when the nerves threaten to boil over. It's the motto I live by.
Now, I just need to find the perfect spot to hang it. I'm thinking the kitchen where I will see it a lot.
Oh hey, let's not forget this sandwich too, which is totally worth the late night post. I first made this with chopped kalamata olives instead of tapenade and ate it for breakfast. Honestly, you could do it that way as well. Still I have to tell you that the tapenade spread really gets that salty, briny kalamata flavor everywhere, permeating every bite. It's delightful. This makes a great open-face sandwich for lunch … or whenever.
It's a cinch to make too, which makes it perfect for whenever.
What do you think? Is it breakfast? Lunch? A good sized snack?
P.S. Apologies to any subscribers or feed readers who received an earlier version of this. I mistakenly hit the wrong button and the post published way too soon. Sorry!
Egg and Prosciutto Open Faced Sandwich with Tapenade
Ingredients
1 slice whole grain bread
1 tbsp tapenade
1 hard boiled egg, , sliced
1 oz thinly sliced prosciutto
Instructions
Toast the bread until golden. Spread with tapenade and then lay the hard boiled egg slices on top. Drape the prosciutto over the egg. Enjoy!