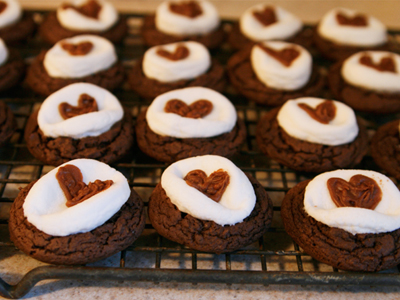 Among friends, you can be yourself. Even if that means they giggle at the funny way you describe how food should sound when pulled from the oven. Among friends you can admit your faults and not be judged. They fill life with laughter and joy. And when things aren't awesome, they lend their ears and help to dig you out.
I'm lucky to have some really amazing friends. Though I probably don't say it often enough, I appreciate them. A lot.
A nod to summer fun, these tender cookies were shared among friends. They're triple layer cookies that start with a moist chocolate cookie that's topped with a chewy marshmallow and topped off with chocolate frosting. Cate from Sweetnicks baked these delights. Joanne from Eats Well with Others piped the frosting hearts on. They both ended up spreading extra frosting on when we devoured them. But not me. I liked the cookies as they were. I wouldn't change a thing …
Well, except pop them under the broiler for a few minutes to toast the marshmallow. That puts them over the top. Swear. If you make these, try it with a few of them. OMG good.
If you are looking for a little something to bake this weekend, try these cookies. You'll love them.
Get the recipe from Sweetnicks for Chocolate S'mores Cookies. And have yourself a lovely weekend.