Confession: I was kind of picky as a child. I'm not anymore, but when I was young, my list of things that I wouldn't eat was extensive, including whole cuisines and categories of food. It's a wonder anyone put up with me.
But even when I was young, really good cooking could sway me to eat things on the no-eat list. My uncle Hugo taught me to love broccoli and cauliflower by whipping up a cheese sauce to drizzle on them. It changed my world.
Another thing that changed my eating world was a trip to visit Hugo and my aunt when I was 12. At the time, I didn't see myself as particularly picky. But I was and it became more and more apparent as the visit to their new Florida home went on. Everything came to a head when we went to Checkers for hot dogs. It was supposed to be a special thing — something they loved that we couldn't get up north. But at the mere mention of a drive-thru, I felt a panic rise in me. What if there was mustard on the hot dogs? I couldn't eat them if there was. So what would I do? I quietly inquired, and asked if my dog could have none.
I'll never forget Hugo's reaction. I can't remember his exact words, but the message was clear: Being picky was selfish and unfair to everyone else. Hugo had never spoken to me like that before (and never did again). It hit me hard, bringing tears to my eyes as I struggled between my desire to please and my absolute hatred of mustard. The shudder of shock, one I had never experienced before, affected me deeply. I didn't want to be picky.
A few years later, I was on vacation with my friend Allison's family. When we went for breakfast at Allison's aunt's restaurant, I had no idea what to order. I wanted to be a good guest. One who was easy to be around. Being picky wasn't an option so I asked her mom for a recommendation of what to order. She suggested the asparagus and Swiss omelet. Even though I wasn't sure I liked asparagus and I really disliked eggs, I ordered it anyway. I just wanted to be agreeable.
It's a good thing I was.
That meal turned me on to omelets. And asparagus. And the combination of asparagus and Swiss cheese in an omelet.
Good thing I was. I discovered that day that I could love omelets. What's more: I wasn't picky. I ate whatever was there. (Allison's family also introduced me to aglio olio, Hotter Than Hell salsa and pork rinds — all of which I loved, and am so glad I tried).
This omelet is a lot like the one that I had at Allison's aunt's restaurant. It's fork tender, thin like a crepe and seasoned just right with salt and pepper. Cooking it gently firms the egg without browning or creating a hard-to-cut crust on the omelet. And in the center of this delight? Thinly sliced ham draped over a bed of sharp cheddar cheese. It's blissful.
On Omelets
There are so many ways to make an omelet — thick and fluffy, folded over toppings, for instance. Or cooked with the toppings mixed right into the eggs. But my preferred way is crepe-like (as in it's very thin) and stuffed with cheese and other goodies.
The key to making this crepe-style omelet is to cook it gently. I preheat my nonstick omelet pan to just below medium (4 on a scale of 10). Then I spray in cooking oil spray and pour in the egg mixture (eggs, milk, salt and pepper). Then I let it cook until it's just about set. No poking or prodding allowed. From there, I spread cheese and other fillings down the center of the omelet, gently fold in the sides and let it cook for a few minutes more until the cheese melts. Then I slide it onto a plate.
It's killer.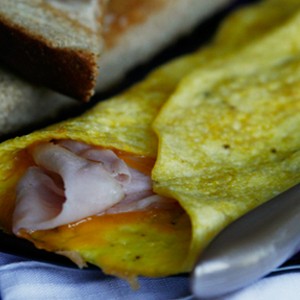 Delicate Ham and Cheddar Omelet
Ingredients
1 large egg, , preferably a local, free-range one
2 tbsp milk
salt and pepper, , to taste
cooking oil spray
1/4 cup sharp cheddar cheese
2 oz very thinly sliced ham
Instructions
Preheat a nonstick omelet pan on the stove with the burner set to just below medium.
While the omelet pan is heating, whisk together the egg, milk, salt and pepper. Once the pan is warmed, spray with cooking oil spray and pour the egg mixture in. Tilt gently to spread it into a thin layer. Then, let it cook until just set.
Sprinkle the cheese down the center of the omelet. Drape the thinly sliced ham on top of the cheese, creating an even second layer. Then, fold the two sides of the omelet in -- like a wrap. Cook until the cheese is melted.
Slide the omelet onto a place and enjoy!