For the last few years, Will's school bus came so early that wake up and breakfast was filled with grunts and half-closed eyes. It was brutal.
This year is different though, with a later bus and a lot more time to wake, eat and get ready. Still, making quick, easy and fun breakfasts still matters no matter what time the school bus comes. Time is precious in the morning and no one wants to spend it slaving over a complicated weekday morning breakfast.
These Mini Bacon, Egg and Cheese Bites? They take about 20 minutes — total — to make. That's doable on a school morning. But making them ahead makes them even more convenient as a quick breakfast. Just pop some in the toaster oven before serving (they only need a few minutes to warm up from the fridge). Want them to be ready even faster? Microwave them for 15-20 seconds. They won't be as crunchy but they will still have all the delicious bacon, egg and cheese flavor.
The key to making these a great breakfast? These are part of breakfast — not the whole. So serve up 4-5 along with fresh fruit and a glass of OJ.
To make these Mini Bacon, Egg and Cheese Bites, you need four slices of cooked bacon that's been all crumbled. I keep my bacon in the freezer and cut off a 1/4-inch vertical slice for each slice of bacon I need. Then I cook from frozen. But you could also reserve leftover cooked bacon from another day for these.
You also need some sharp cheddar, one egg, a little milk, salt and pepper. And these are baked in the super convenient Athens Mini Fillo Shells. These babies are precooked and super crispy, which adds a nice texture component to this dish.
Assembling these is a process quick and easy. You add the bacon to the shells then the cheese and the whisked egg and milk. Then you bake then up. Mere minutes!
And these aren't just good as a part of breakfast. You could also bake up a batch or two of these as a quick and easy appetizer too. Then, listen for the "yum!"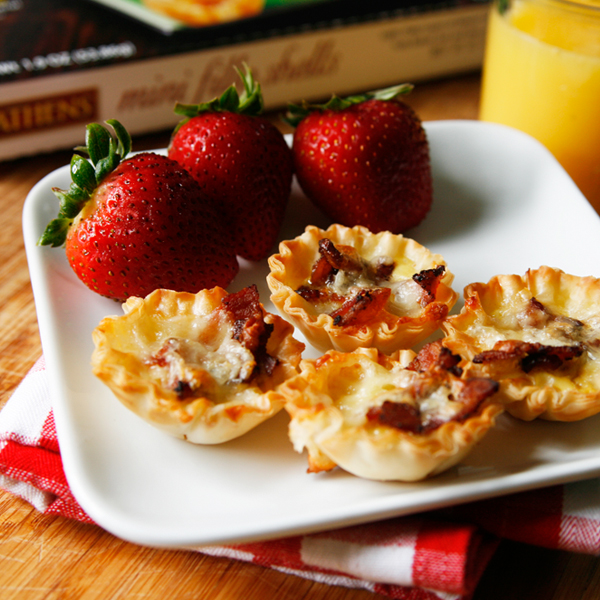 Mini Bacon, Egg and Cheese Bites
Yield:
15 bites (serves 3-4)
Ingredients
15 Athens Mini Fillo Shells, 1 box
4 slices bacon, cooked and crumbled
1/4 cup sharp cheddar cheese
1 large egg
1 tbsp nonfat milk
salt and pepper, to taste
Instructions
Preheat the oven to 350 degrees.
Lay the Fillo shells on a nonstick baking sheet. Divide the bacon and cheese evenly among the shells.
Whisk together the egg, milk, salt and pepper. Divide evenly among the shells.
Bake for 11-12 minutes, until golden.
Let cool slightly before serving.
---
Disclosure: I was not compensated for this post. However, Athen's Foods provided me with free product to create this recipe at my request. All opinions are my own.