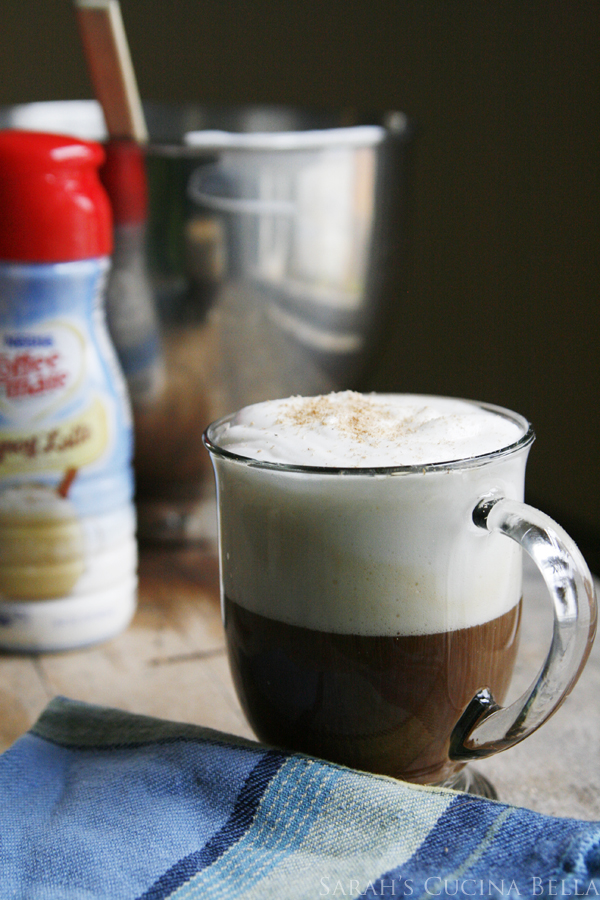 Psst! Tomorrow is November. That's a little fact that Paige — my November baby — has been pointing out for weeks. She can't wait for her birthday. I can't wait for the holiday season, and everything that comes with it.
Still, it's hard to believe that we're entering November. Where did the year go?!?
That doesn't make me any less excited for the holidays though.
You know what else is starting to pop up? Seasonal flavors — like the Coffee-mate line of creamers. This year, there are five of them — Spiced Latte, Pumpkin Spice, Eggnog Latte, Peppermint Mocha and Dark Chocolate Fudge. Apparently they are actually available from September until December (though I just saw them begin to show up on shelves) — these flavors are such a treat.
My family will happily attest to the fact that I am a sucker for anything peppermint too. So there's that.
In any case, Shawn and I picked up a few new (or new-to-us) seasonal flavors to try out. I totally fell in love with the Eggnog Latte flavor, which has the flavor of eggnog without being too sweet. Since I love eggnog, it was right up my alley.
Over the last week, I have been playing with the creamers and having so much fun — they are good for adding additional flavor into baked goods. But that's not all.
Guess what I discovered? If you whisk Coffee-mate Eggnog Latte a lot (and super fast), it gets really, really frothy — not quite like whipped cream, but thick, creamy and airy — perfect for a latte-ish drink. It's delicious on top of strong, hot coffee with a sprinkle of freshly grated nutmeg.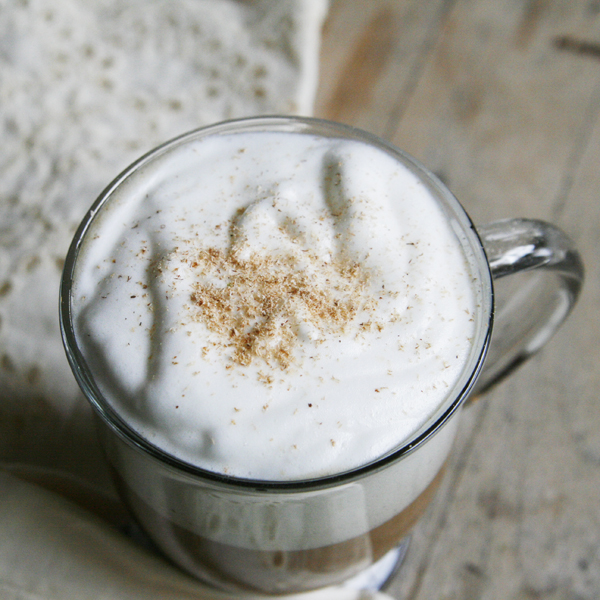 This recipe for Frothy Eggnog Latte Coffee only has three ingredients and is ready in less than 10 minutes — and it's so, so worth every second of preparation.
You can thank me later.
Frothy Eggnog Latte Coffee
Ingredients
scant 1/2 cup Coffee-Mate Eggnog Latte creamer
8 oz strong, hot coffee
nutmeg
Instructions
Pour the scant 1/2 cup Coffee-Mate Eggnog Latte creamer into the bowl of a stand-mixer and whisk on its highest speed for 5-7 minutes until super frothy.
Pour the hot coffee into a large mug (the bigger, the better!) and top with the frothed creamer.
Sprinkle with nutmeg (freshly grated nutmeg is the best for this!).
Enjoy!
---
I was selected for this opportunity by Clever Girls Collective, however all content and opinions expressed here are my own.