As Thanksgiving is getting closer, I'm sure that you are starting to plan your menu out. If your Thanksgiving will include a turkey as the main item, you have so many different options when cooking! I've got 17 delicious Thanksgiving turkey recipes that you can try out with your family!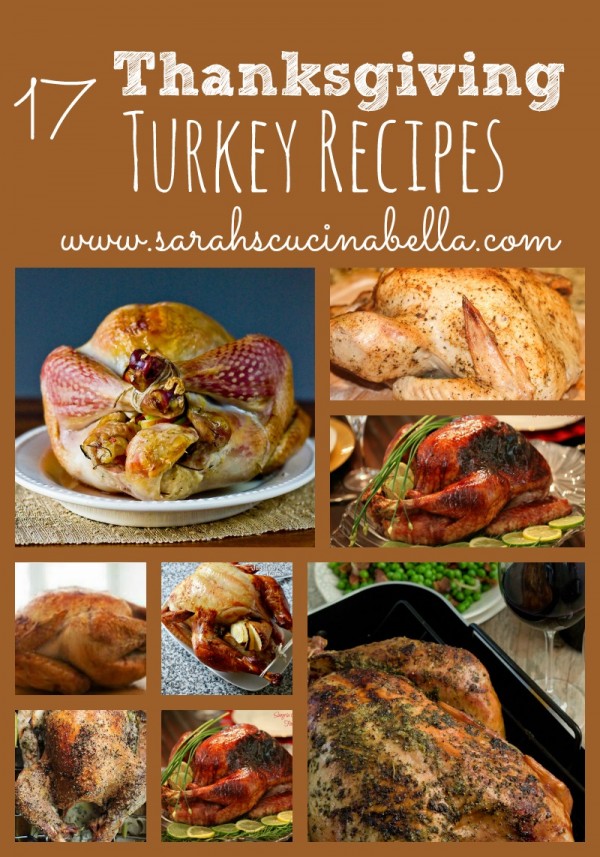 Do you ever look around and wonder how time passed so quickly? That's sort of how I feel about the progression from summer to winter — which seemed to happen overnight. I mean … weren't we just swimming in Maine lakes and drifting off to the hum of window fans? I thought so. But really, we are nearly at Thanksgiving — the sort-of food holiday where we indulge whilst giving thanks for all our blessings.
My kids and I have so much to be thankful for … each other, our family and friends, our home, a job I love, schools where they are learning lots and also feel safe and an overall good life. We're happy here in Maine, and getting to experience so much more than we did back in Connecticut. For instance, last weekend the kids began ice skating lessons. And soon, they will learn to ski and snowshoe.
How about you? What are you thankful for this year?
With Thanksgiving nearing, it's also time to get thinking about what to make. And if you are looking for a fresh take on tradition, check out these delicious recipes for Thanksgiving turkey … I am drooling already.
17 Thanksgiving Turkey Recipes
1. Perfect Smoked Turkey | Source: Sweet C Designs
2. Roasted Lemon Rosemary Split Turkey Breast | Source: Sarah's Cucina Bella
3. Perfect Thanksgiving Turkey | Source: Momma Lew
4. Paper Bag Turkey Cooking | Source: Ashlee Marie
5. Easy Roasted Lemon Pesto Turkey | Source: Sarah's Cucina Bella
6. Brined and Roasted Thanksgiving Turkey | Source: Juggling Act Mama
7. Bacon Wrapped Turkey | Source: Family Frugal Fun
8. Crock-Pot Turkey | Source: Practical Stewardship
9. How to Cook Turkey in an Oven Bag Recipe | Source: Clever Housewife
10. Rosemary Lemon Roasted Turkey | Source: Diethood
11. Mayonnaise Roasted Turkey Recipe | Source: She Wears Many Hats
12. Sangria Glazed Turkey | Source: Food Done Light
13. Roasted Turkey with Herb Butter and Roasted Shallots Recipe | Source: Cookin' Canuck
14. How to Make the Perfect Thanksgiving Turkey | Source: First Home Love Life
15. Citrus and Herb Roasted Turkey Recipe | Source: What's Gaby Cooking
16. Turkey Breast Slow Cooker Recipe | Source: Stockpiling Moms
17. Roast Turkey | Source: My Turn for Us
Sarah Walker Caron is a cookbook author, freelance writer and founder of Sarah's Cucina Bella. She is the author of four cookbooks including The Super Easy 5-Ingredient Cookbook and One-Pot Pasta, both from Rockridge Press. A single mother to a tween and a teen, Sarah loves nightly family dinners, juicy tomatoes plucked fresh from the vine and lazy days on the beach. She also adores reading and traveling.