With just three ingredients, you can make this Easy Roasted Lemon Pesto Turkey recipe. It's delightful and perfect for the holidays.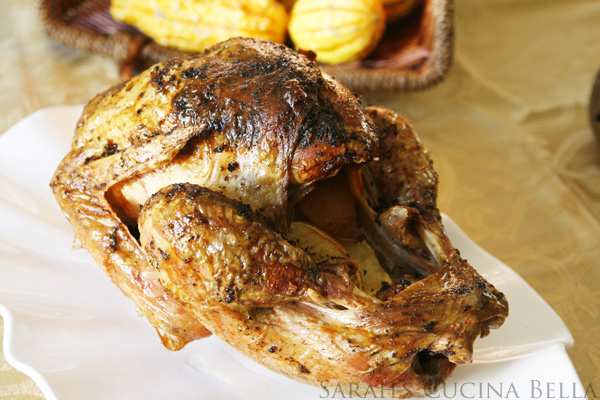 This recipe for Easy Roasted Lemon Pesto Turkey is brought to you by Betty Crocker and Butterball. All opinions are my own.
Over the summer, my family and I moved to a new-to-us house not far from our old one. In doing so, we gained some amazing spaces that give us room for reading, homework, work, play, entertaining and more — things we didn't have before. But there was one thing we left behind: my big, beautiful kitchen.
While our old house was small, it had this amazing, large eat-in kitchen that was so big that we could house our entire dining room table, a secondary table, a kitchen island and more in there — and still have room to move about. Of course, that giant kitchen amounted to about a third of the house. But I wasn't complaining.
In our new house, our kitchen is substantially more compact. And by compact, I mean that we have very limited counter space. It's challenging.
So, in planning Thanksgiving dinner this year, we have an added element that impacts our planning: ensuring that we have room for all the dishes that will line our buffet table. It also means that the rotisserie we've cooked our turkey in for years may not make an appearance this year — since there really isn't room for it.
Fortunately, there are many ways to make an awesome turkey. And that includes roasting it — like in this recipe for Easy Roasted Lemon Pesto Turkey.
Think making a unique, flavorful turkey is hard? Think again. With a few simple ingredients, you can create an unforgettable bird that's bathed in deliciousness. Seriously.
To make this turkey, you need only three ingredients: a turkey, pesto and some lemons. That's it. The pesto is infused with lemon zest and then the quartered lemons fill up the turkey's cavity, delivering flavor and moistness while it cooks.
All that's left is to carve this easy bird … who's game?
This recipe is a great addition to an easy Thanksgiving menu. Really, anyone can make it — no matter how skilled (or unskilled) in the kitchen you are.
Need some ideas for a quick and easy meal? Serve this turkey with some freshly baked Pillsbury Crescent Rolls — like these Buttery Garlic Asiago Crescents. Betty Crocker stuffing and boxes potatoes can also make pulling the meal together quickly and easily. And for your gravy, my Foolproof Herbed Turkey Gravy is perfect.
Easy Roasted Lemon Pesto Turkey
Ingredients
1 Butterball whole turkey, defrosted
1/3 cup basil pesto
1 lemon, zested and quartered, plus 1 lemon, quartered
Instructions
Preheat the oven to 350 degrees. Arrange a rack in a roasting pan for the turkey.
Wash the turkey inside and out and pat dry. Place on the roasting pan rack. Gently loosen the skin on the turkey.
In a small bowl, stir together the pesto and the lemon zest. Spread the mixture all over the turkey and under the skin.
Tuck the lemon quarters in the cavity of the turkey.
Slide the turkey into the oven and cook until the internal temperature reaches 165 degrees – the time will vary based on the size of the bird, but for a 10 lb turkey it will take 3-3 1/2 hours.
Remove from the oven and let the turkey sit for 15 minutes before carving.
Notes
If desired, you can tent foil over the turkey after the first 30 minutes are complete – this will prevent the skin from getting too brown. Use the turkey drippings for an unforgettable gravy.
---
Disclosure: I was compensated for creating this recipe. All opinions are my own. To save money on Thanksgiving, be sure to check out the Every Day Saver Campaign, which has great coupon for ingredients you need for your Thanksgiving meal.