Give your day a healthful start with this Broiled Grapefruits with Honey and Coconut Sugar recipe — a sweet-tart addition to your breakfast meal!
It's funny the things we remember from holidays from childhood. I couldn't tell you what we ate for Christmas dinner (like, ever) but I can tell you the little things that would make the holiday season special — like my uncle encouraging me to stick olives on every finger and bite them off one by one. Or the year I received a coveted Cabbage Patch doll (her name is Lena … and yes, I still have her).
There's other things too … like the box of chocolates that would arrive wrapped in brown kraft paper for my grandmother from her niece each holiday (oddly, those chocolates always disappeared before I got to try them). And, of course, the box of citrus fruits that my uncle would send up for our family from Florida, where he lived at the time.
Back then, Billy and his then-wife had a comfortable one-story home on a canal in Hudson, Florida. In their living room, an old lobster trap set with a piece of glass on top served as the coffee table (loved that). And outside, in their backyard, a little dock sat where they kept a small boat tied up fro fishing. During one visit to their home, Billy, my uncle, let me try fishing off that little dock. I didn't catch anything, but had fun trying.
In any case, since Billy lived in the great citrus hub of Florida, he would send oranges and grapefruits up to us in New York every year around the holidays. The thick cardboard box, filled with layers of foam with the round citrus fruits nestled inside, would sit on the floor just inside the dining room.
The oranges? I dug into those whenever anyone would peel one for me. But the grapefruits, which I wasn't as fond of, were for my grandparents who'd have a half for breakfast every morning sprinkled with a bit of sugar.
A few years ago, I tried broiled grapefruits for the first time and was pleasantly surprised by how juicy and pleasant the flavor was with a little sugar and broiling.
Recently, I decided to make over my broiled grapefruit recipe with a different mix of sweet flavors. Granulated sugar was replaced with honey and coconut sugar. Then I added a little flavor warmth to it with a dash of cinnamon. These sweet-tart broiled fruits are delicious for breakfast, and they are also pretty darn good for you too.
And here's a hint: If you use a knife to separate the wedges before broiling, they are easier to eat.
Healthful Grapefruits
These citrus fruits aren't just pretty and tasty though, they are also pretty healthful. Grapefruits are high in vitamin C, and contain a good deal of lycopene (an antioxidant). Some studies have also suggested that eating half a grapefruit (or drinking a glass of grapefruit juice) before meals can help people lose weight. According to one study, that is because grapefruits naturally lower insulin levels which results in decreased hunger. Pretty awesome.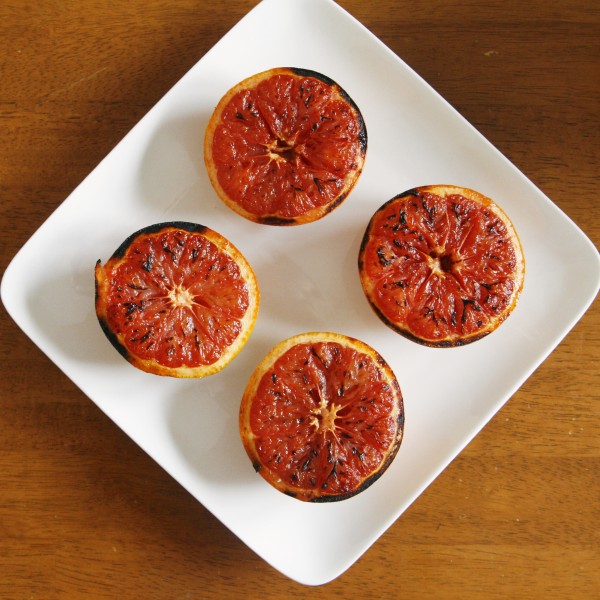 Do you like grapefruits?
Broiled Grapefruits with Honey and Coconut Sugar
Ingredients
2 ruby red grapefruits
8 tsp honey, , divided
cinnamon, , to taste
coconut sugar, , to taste
Instructions
Preheat the oven to broil. Line a baking sheet with aluminum foil (for easier clean up!).
Cut each grapefruit in half. If desired, you can also cut a small slice from the bottom of the grapefruit to make them lie flat. I didn't do this because these sat fine without it. Using a paring knife, carefully cut between the wedges in the grapefruit. This will make for easier eating later.
Place the grapefruit halves on the baking sheet. Drizzle each with 2 teaspoons of honey and your desired amount of cinnamon and coconut sugar.
Slide the baking sheet into the oven. The rack should be set about 4-inches from the broiler element. Cook for 8-10 minutes, or until slightly browned. Let cool for a few minutes before serving -- and be sure to spoon any honey mixture left on the tray on top of the hot grapefruits. Enjoy!