Nestled in the quiet village of Rhinebeck, New York, America's oldest inn has played host to countless notable and important people since opening its doors in 1766. The Beekman Arms isn't your typical place to stay — but that's what makes it so special.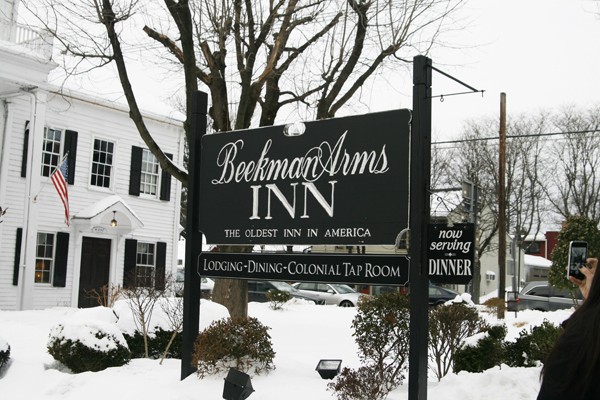 As a girl growing up in Dutchess County, New York, sometimes my parents and I would hop on Route 9 and head to Rhinebeck for an epic buffet brunch at the Beekman Arms.
That's my earliest memories of the stately white inn that sits in the center of historic Rhinebeck, New York. It's also the place where my family gathered together for a wedding reception in the early 90s — the last time all of my immediate family would ever be in the same room together.
While it seems that the epic brunch days have passed (the Beekman Arms still serves brunch on Sundays — but it doesn't appear to be the buffet I remember), I was excited to travel back to this place of my childhood for a few days in winter 2014.
My then-client, Jones Dairy Farm, invited me to an amazing event at the Culinary Institute of America in nearby Hyde Park, New York, and offered to put me up for a night at the Beekman Arms.
More than a restaurant (though it has a good one), the Beekman Arms is America's oldest inn and has hosted so many distinguished guests over the course of its history. George Washington slept here. Franklin Delano Roosevelt kicked off his campaigns from the front porch of the inn. And when Chelsea Clinton was married, her rehearsal dinner was held here — and many of her guests stayed in the quaint rooms.
Of course, being an inn this old means that there are rumors that some guests never quite left. In fact, at least one woman I traveled with said she heard stomping boots at night and was terrified.
To say this is no ordinary place to stay is the understatement of the century. But it's also not your mainstream modern hotel — so be prepared.
My room was in the The Gables, a Victorian-style home that's been converted into a guest house. Located just a few blocks up the street from the main Beekman Arms building and next door to the Delamater Inn (a part of the Beekman Arms), this cozy house is centrally located and convenient to the downtown Rhinebeck area. You can basically walk everywhere once you're there.
On the first floor of The Gables, in addition to a few guest rooms, are two communal living areas. I didn't see anyone stop in there while I was staying but the expansive glassed in front porch and sunny living room would be a great place to catch up with friends if you were all staying here.
My room was on the second-floor. Painted blue, and decorated with flowery blue curtains, the room was so inviting. With tilty wooden floors and beautiful details, it was like stepping into a home away from home (no sterile hotel feel here!). Of course being a former home in the Victorian style, the room had its share of gabled roofs — including in the tiny bathroom. Good thing I am not that tall. I loved the four poster bed with its crisp white linens — it was so comfy.
Off in one section of my room was a sitting area perfect for a little morning journaling or relaxing after a busy day.
Every room in the Beekman Arms buildings is different. In fact, as I was getting ready to leave, I was able to see into another second floor room that was being cleaned. The wide-board hardwood floors immediately caught my eye — How lovely!
In the morning, a small serviceable breakfast was available in a nearby building. A variety of pastries and breads waited (with a toaster for toasting) along with cereals, hard-cooked eggs and local yogurts. Fresh fruit rounded out the offerings. It wasn't a vast breakfast, but it was enough to get me going.
While in Rhinebeck, do stop in on the lovely nearby shops. We loved Paper Trail with its unique collection of affordable housewares, paper goods and children's items. Also, I have heard so many wonderful things about Terrapin, a restaurant located just across the street from The Gables. Thirsty? The Liberty Public House has live music downstairs on weekends and serves up a good drink. For a small village, there is much to do in Rhinebeck.
Also, don't forget to spend a little time in the main Beekman Arms building. The fireplace and sitting rooms are lovely. And the tavern and restaurant are great for a sip or nibble.
Beekman Arms Delamater Inn
6387 Mill St.
Rhinebeck, NY 12572
Disclosure: This is NOT a sponsored post. However, my stay at the Beekman Arms was paid for by my then-client Jones Dairy Farm as part of a work trip. All opinions are my own.