This shop has been compensated by Collective Bias, Inc. and its advertiser. All opinions are mine alone. #SweetnSaltyHoliday #CollectiveBias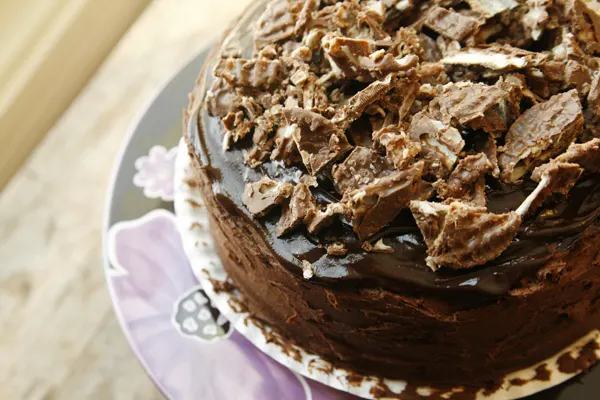 The holidays are a time for celebrating and what better way to do so than with an over-the-top, delicious cake perfect for sharing at holiday parties? With layers of chocolate cake, frosting, ganache and topped with some fun chocolate covered chips, this Chocolate Overload Cake is decadent and delightful.
Last week, I sent my kids on a mission: Find the tabletop Christmas decorations in our basement. They came back with the nutcrackers, the Santa I bought years ago because his infamous list had the names of my cousin and aunt, holiday candles and seasonal figurines. We'll put up the tree sometime this week too. I love the way the white lights brighten our living room during the holiday season.
These are the exterior signs that the holiday season has arrived. But — like with many things — it's what inside that matters most. Decorations are fun, but the memories we make — especially when we don't really realize we're doing it — are the best. My daughter, for instance, recalled this week how we'd decorated the tree one chilly Monday two years ago, and then watched a holiday movie while eating mozzarella sticks. At the time, it didn't feel that significant, but anything that creates lasting memories like that clearly is.
Those unforgettable moments come when we least expect it. Sometimes, they come because we've taken a little more time to do something than we usually would. We slow down, and talk about the ornaments gathered over the years and where they came from. We pile in the car and drive around the neighborhood to see the decorations, even when we normally hate slow rides in the car. We block off time to make a special dessert to usher in our family holiday festivities.
This cake could be that special dessert. It could also be a lovely thing to serve at holiday parties — whether it's your work shindig or a cocktail party with friends. Your guests will thank you.
This begins with two moist cakes, made from one recipe. Once they're all baked and cooled, they're frosted — in the center, on the top and on the sides.
Then comes a spread of chocolate ganache — just on the top.
And then, finally, the topping: Sweet, salty, crunchy Chocolate Wavy Lays Potato Chips. Chop them roughly and them pile them on.
No, this isn't a cake for any old day. In fact, I recommend giving yourself two days to make it — one day to bake, one day to frost and finish. Trust me, it's better that way. And then you dig in, with your family, friends or whoever you want to share something special with.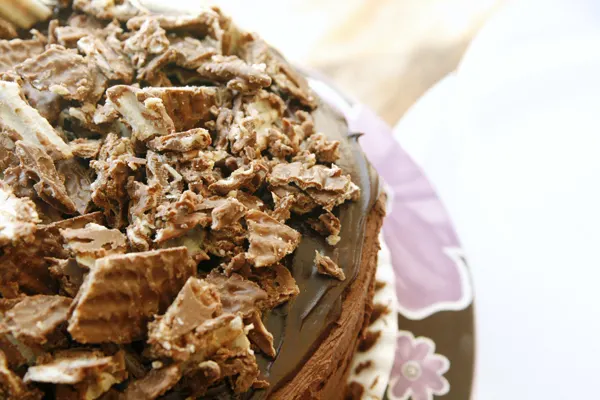 And, oh, isn't it delightful?
About those Chocolate Wavy Lays: They're a limited edition treat available right now at Target. I found them — I bought both the Milk Chocolate and Dark Chocolate ones — on a rack near the freezer section. If you don't see them, ask — they are so worth it.
Chocolate Overload Cake
Total Time:
1 hour
50 minutes
With layers of chocolate cake, frosting, ganache and topped with some fun chocolate covered chips, this Chocolate Overload Cake is decadent and delightful.
Ingredients
Cake
2 cup all-purpose flour
1 cup sugar
1 cup cocoa powder
4 tsp baking powder
1 tsp kosher salt
2 large egg
1 cup milk
1/2 cup canola oil
2 tsp vanilla extract
1 cup boiling water
Frosting
3 cups powdered sugar
3/4 cup cocoa powder
1 cup unsalted butter, , softened
1-3 tbsp milk
Ganache
2 oz dark chocolate, , chopped
1 tsp milk
1 bag Milk Chocolate Wavy Lays, , chopped
Instructions
Cake
Preheat the oven to 350 degrees. Grease two 8-inch round cake pans.
In a large mixing bowl, sift together the flour, sugar, cocoa powder, baking powder and salt with a whisk until it's mixed up evenly.
Add the egg, milk, canola oil and vanilla to the bowl, and whisk to combine until smooth. This won't be easy, but going it by hand (it will take about 2 minutes) is completely worth it.
Pour the boiling water into the mixing bowl and whisk gently to combine. The batter will go from being really super thick to being pourable and loose. Continue whisking until it's of a single consistency.
Pour the batter into the prepared baking pan. Bake for 30-35 minutes or until a cake tester inserted into the center comes out clean.
Let cool completely.
Frosting
Sift together the powdered sugar and cocoa powder in a large bowl.
In the bowl of a stand mixer, beat the butter with the powdered sugar mixture on the lowest speed. Coarse crumbs will form. Add the vanilla extract and continue to beat. Stop the mixer and scrape down the sides and then continue to beat on low. Add 1 tablespoon of milk and let mix thoroughly. Add additional milk, as desired, to achieve desired frosting consistency.
Once made, use the frosting to frost between the cake layers, the sides of the cake and the top.
Ganache
Combine the chopped chocolate and 1 teaspoon of milk in a small microwave safe bowl. Microwave for 30 seconds and then stir well until smooth.
Let cool for 5 minutes and then spread over the top of the cake.
Spread the chopped Milk Chocolate Wavy Lays all over the top of the cake.