Do you need a little "Brunchspiration?" This easy recipe for Potato and Sausage Bake with Poached Egg and Avocado is perfect for an elegant, easy brunch.
Fourth of July celebrations are gregarious — all barbecue scented and firework lit. Thanksgiving celebrations are warm and cozy, a soft blanket wrapped tight around your soul. And Saint Patrick's Day celebrations are joyful, merry and perhaps a little too much.
But Easter … Easter celebrations are special. It's whimsical and warm in a quieter way — like soft rain on a lazy Sunday or an unexpected hug. It has its serious parts too, but much of the family time is just pleasant, easy, wonderfulness.
It was on Easter that I used to host a brunch for my family every year. We'd feast on egg dishes, French toast, salads and more. And then the kids would hunt eggs around my yard or my cousin's. Those were good times. Anything that brings my family together is good.
These days, with my kids and I living so far north of my family, our traditions have shifted. Celebrations are held on a smaller scale, if we're home, or we join the lovely friends we've made for their celebrations. Either way though, those tenants of the celebrations hold true.
And dishes like this one make it so easy to have an elegant, warm meal — on a small scale — with those you love.
To make this dish, you first prepare the ingredients. The sweet potatoes and Yukon gold potatoes are small diced — about 1/2 inch dice — and then mixed with small diced carrots, diced onions, olive oil, salt and pepper. You should have about equal amounts of Yukon gold potatoes and sweet potatoes in the mixture.
Then you divide the mixture between four individual baking dishes. These are what you'll serve it in too.
While that bakes — it takes about a half-hour — you prepare the sausage. It takes about 15 minutes in a pan on the stove. Then you cut it into pieces and divide it between the four baking dishes.
Top all of them with a poached egg and some sliced avocado and you have an elegant, easy dish perfect for holiday brunches. Just think how easy this would be to whip up after Easter services while the kids are hot on the trail of eggs in your Easter egg hunt.
Johnsonville sausage links are so easy to make — they brown in a pan for about 15 minutes and are ready to enjoy. And they add so much flavor to a dish like this. Links are perfect since they, when cut up, are a similar size and shape to the other pieces. Did you know that Johnsonville uses choice cuts of pork and a variety of flavors and spices to make their sausage links, giving them big, bold flavors?
How do you incorporate sausage links into your favorite brunch recipes?
P.S. You can also connect with Johnsonville on social media — they are on Pinterest, Facebook, Instagram and Twitter.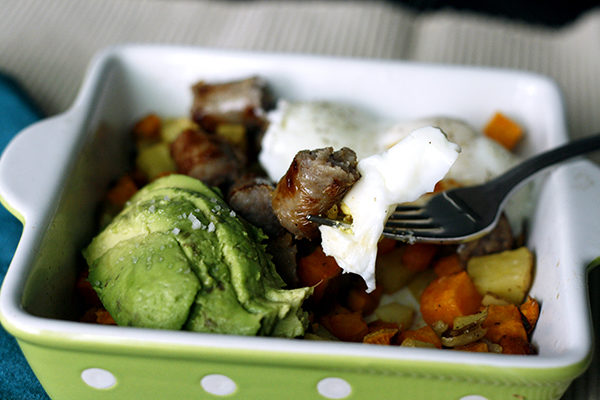 Potato and Sausage Bake with Poached Egg and Avocado
Ingredients
1 large sweet potato, small diced
2 medium Yukon gold potato, small diced
2 carrots, diced
1 onion, diced
2 tbsp olive oil
salt and pepper, to taste
1/2 package, (12 oz) Johnsonville® Original Recipe or Vermont Maple Syrup Breakfast Sausage Links
4 eggs
1 avocado, pitted, peeled and thinly sliced
Instructions
Preheat the oven to 375 degrees. Spray four single-serving baking dishes with cooking oil spray. Set aside.
In a large mixing bowl, stir together the sweet potato, yukon gold potato, carrots, onion, olive oil, salt and pepper until thoroughly combined. Divide evenly among the four baking dishes. Bake for 35-40 minutes, until the vegetables are tender and golden brown.
Meanwhile, prepare the sausage according to package instructions. Once cooked, cut into 1-inch pieces.
Divide the sausage evenly among the four baking dishes. Stir to combine.
Finally, poach the eggs. Heat water to boiling and then reduce the heat to medium-low. Once the bubbling subsides, add an egg (in a large pan, you can cook more than one at once). Cook each one for about 4 1/2 minutes. Remove with a slotted spoon and place on top of the veggie sausage mixture along with 1/4 of the avocado. Continue until all the eggs have been cooked and plated.
Sprinkle with additional salt and pepper, and serve.
This is a sponsored conversation written by me on behalf of Johnsonville. The opinions and text are all mine.