The food was laid out. Fairy cakes and wands and elf ears. Napkins and cups and lemonade too. And then the fairies came, dressed in their most fairy-like finery
The location, a downtown park area surrounded by gardens, was just right. Bathed in sunlight and the many colors of flowers, it was as if the fairies had prepared for our arrival.
This was, after all, Fairy Fun Day.
The event, created by our local indie bookstore The Briar Patch, was a fairy celebration complete with wand making, fairy house building and fairy storytime.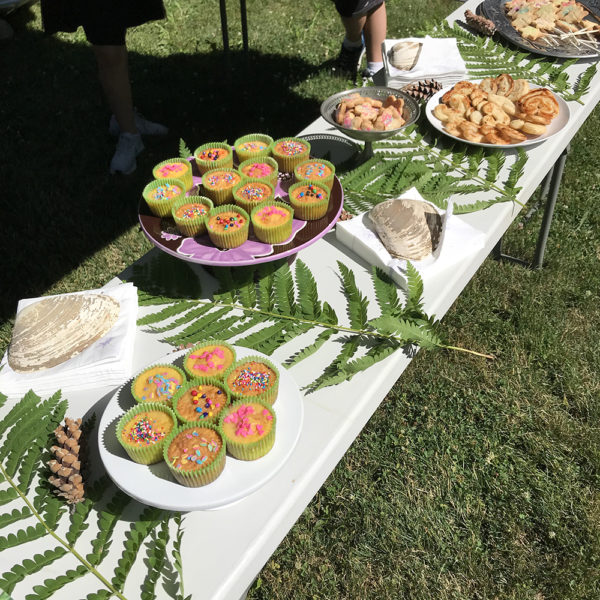 I cooked from Fairy House Cooking by Liza Gardner Walsh, a cookbook published in 2017 by Down East Books that features treats for humans as well as their animal and fairy friends.
The little fairies delighted in the Star Cookie Wands and colorful decorated Fairy Cakes. Crispy, sweet Elf Ears were almost too precious to eat.
When I first became acquainted with author Liza Gardner Walsh several years ago, it was because she'd written a book for families that intrigued me. Muddy Boots is a celebration of outdoor play that felt so Maine to my recently transplanted self. So I interviewed her.
By then, she'd also written several books about fairy houses and treasure hunting. Better than a Pinterest board, this Maine author was encouraging families to get outside, create and explore. Since then, I've interviewed her about several of her other books including The Ghost Hunter's Handbook and Fairy House Cooking.
Somewhere along the way, I also became acquainted with the charming Hazel Mitchell, an illustrator and author whose book Toby became a quick favorite in our house.
When the two teamed up to work on a series of whimsical fairy picture books, I was so excited — both for them and for the kids who'd read them. The occasion of this Fairy Fun Day was the release of their latest fairy storybook, How Do Fairies Have Fun in the Sun?
It was a delightful day.
The recipes in Fairy House Cooking are whimsical but also easy to make. They would be perfect for creating with your favorite little fairy helper. It also includes tips on hosting a fairy tea party, birthday parties and more. Beyond the recipes that I made, the book includes recipes like Pixie Dust Popcorn, Toadstool Cupcakes and Edible Fairy Dust.
The recently released companion book, Fairy House Crafts, is also lovely. Filled with fairy-inspired crafts that rely heavily on nature, it's a great resource for adding a little fairy magic to your great outdoors.
My kids are getting older, which means my days of dressing up as fairies and treasure hunting in the backyard are numbered — at least with my kids. But maybe yours aren't yet. And if they aren't, Fairy House Cooking is a great catalyst for imagination and family fun.