Making granola bars at home is a tasty way to customize your snacking. This Easy Blueberry Muffin Granola Bars with White Chocolate recipe has just five ingredients and makes a big batch of bars.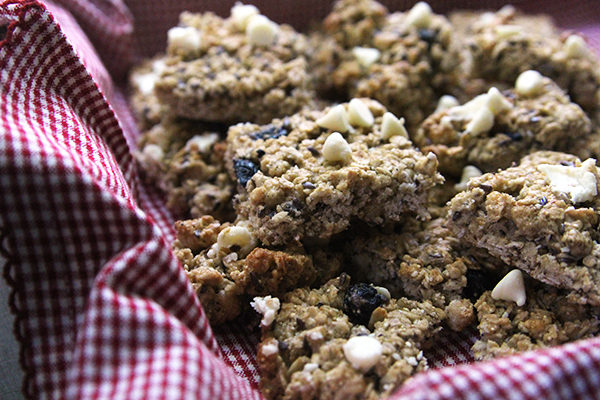 Why make granola bars? Yes, you can buy them in the store. But when you have a granola you really like — or what something different than the oats and honey and peanut butter varieties available, making your own is the best way.
Start with a good granola. You need to like the flavor of the granola you're using. For this one, I choose a variety with dried blueberries. It's delightful — both as granola and transformed into a granola bar.
Egg whites are whipped to soft peaks and then mixed with honey and cardamom. This both binds the bars and gives them a warm, pleasant flavor. It's the combination of honey, cardamom and blueberry granola that makes these bars reminiscent of blueberry muffins.
Fold the granola into the egg white mixture. This isn't the same as stirring. You're folding it so that the egg white coats the mixture instead of mixing with it.
Press the mixture into a parchment-lined pan. Then bake it until the top turns golden.
Sprinkle white chocolate chips on the top. Press them down a bit so that when they soften, they adhere to the granola bars.
Let this cool for 15 minutes. Then cut them into squares. But don't separate them yet.
The bars should cool completely before separating. This will ensure that they hold together. Otherwise, you'll end up with crumbly bars.
These Easy Blueberry Muffin Granola Bars with White Chocolate are good for breakfasts, camping, snacks and more. Make a batch and see how quickly they disappear.
Easy Blueberry Muffin Granola Bars with White Chocolate
Additional Time:
20 minutes
Ingredients
2 egg whites
2 tbsp honey
½ tsp cardamom
4 cups blueberry granola
1/2 cup white chocolate chips
Instructions
Preheat the oven to 350 degrees. Line a 9×13-inch glass baking pan with parchment paper.
In the bowl of a stand mixer, beat the egg whites to soft peaks.
In a small saucepan set over low heat, whisk together the honey and cardamom until combined. With the stand mixer running on low, drizzle the honey mixture into the egg white mixture until blended. Fold in the granola.
Press the granola mixture into the baking pan, pressing with a spatula to spread it evenly and pack it down. Bake for 18-20 minutes, until golden.
Remove from the oven and immediately sprinkle with white chocolate chips. Let sit for 15 minutes. Use the parchment paper to transfer the granola bars to a cutting board. Cut gently into squares (but don't separate them). Cool completely before separating.
Store bars in an airtight container with wax paper between layers of bars for up to a week.