As the holiday season approaches, you might be wondering what to serve this year for a fantastic (and stress-free) party. Guess what? I can help with my newest cookbook, The East Appetizer Cookbook.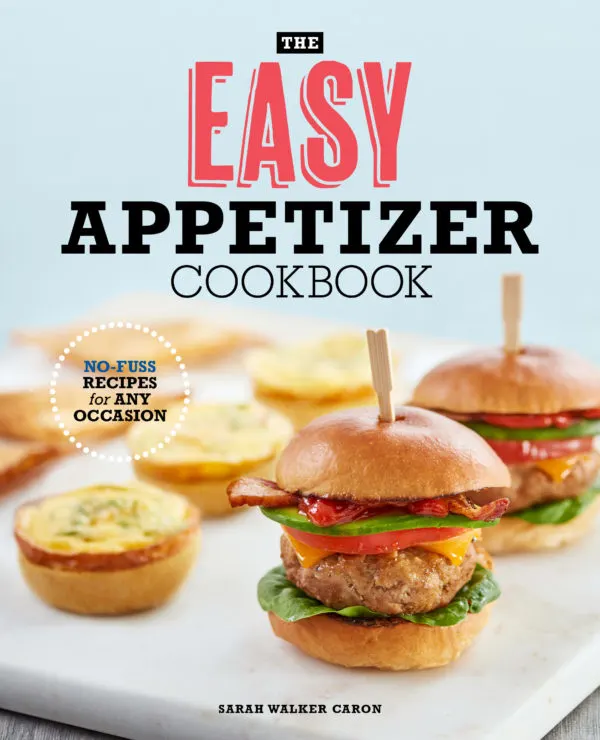 When I throw parties and host holidays, I love to have an array of appetizers ready for guests as they arrive. It's welcoming and eases the transition from arrival to fun.
Sometimes that means a massive cheeseboard with a variety of cheeses from our local cheese shop. Sometimes it's dips or make-ahead bites. Sometimes it's relish trays — or a mix of all these.
Part of the fun is, after all, creating the menu from the first bite to the last.
And truth is that menus can be both impressive and unstressful for the host. It's all in the planning and preparation. When you plan a menu with a focus on cooking ahead of time, for instance, you are free to mingle and enjoy your guests' company.
Isn't that how a good party should be?
I certainly love a good party. And I especially love feeding people — which is exactly that I am helping others do with my latest project. (I am so excited to share this finally!)
Introducing my latest cookbook: THE EASY APPETIZER COOKBOOK. This one is filled with 50 fabulous recipes for appetizers with accessible ingredients you can find in just about any grocery store. Impress your guests without stressing out!
From cooking tools and wine pairing suggestions to tasty recipes, my new cookbook has everything to make your party planning a breeze. Learn how to make traditional appetizer dishes for the big game and creative combinations for holiday feasts. There's also a section in the appetizer cookbook that shows you how to assemble an amazing cheeseboard.
I really love cheeseboards.
In The Easy Appetizer Cookbook you'll find:
Recipes aplenty—Enjoy 60 recipes that are easy and savory.
Party planning like a pro—The party planning tips in this appetizer cookbook include choosing a menu, party timetables, and serving essentials.
Simple, but elegant—The recipes use common ingredients but will still wow your guests with their incredible tastes.
I wrote this cookbook with busy people in mind. These are the appetizers I'd serve to guests at my own parties and holiday gatherings. And now they can be yours too.
---
Preorder your copy now!
For a SIGNED COPY, order from The Briar Patch in Bangor, Maine (yes, they ship!). They are my preferred bookseller
Or ask your local indie bookstore to order you a copy (available via Ingram, in case they need to know). You can find some indies via Indiebound.
You can also get it at the usual suspects:
Amazon | Barnes and Noble | Books-A-Million | Bull Moose