Hearty, warm and filling, this Bratwurst Skillet with Eggs for One is a delightful breakfast for cold days.
In my family's kitchen in the 1980s, there were all the usual suspects — a cooktop, a double oven and a side-by-side refrigerator. By the mid-1980s, we added a microwave to the mix too.
But my grandmother, who was raised during the Depression and came of age just as the world went to war for the second time, didn't keep a full refrigerator. She didn't believe in the fridge should be stuffed. We never had leftovers because she always made just enough food to feed our family well.
There were lunch meats and drinks in the fridge, but she shopped daily for ingredients for dinner so they would be at their freshest.
Fish came from the fish shop. Produce came — usually — from the farm stand (which later became a full market featuring local produce). Bread sometimes came from the bakery, but dessert always did. And meat came from the meat market.
One meat market, in particular, was a favorite. Metzger's on Route 9 in Wappingers Falls, New York, was where we went for wursts — German sausages that my grandparents loved. So did I. For my grandfather, these reminded him of childhood, growing up in a home with his German immigrant family.
Because we often ate German and German-inspired foods, I learned my way around the wurst family. Knockwurst were the ones we had most often. These richly flavored wursts had a reddish exterior. We ordered liverwurst from the deli, removing the casing and stacking the slices on sandwiches. Weisswurst was a very white sausage, flavored with parsley and cardamom. Bockwurst, also whiteish, wasn't a favorite. But bratwurst — which can be a light color or a darker one — was the top of the heap for me.
Bratwurst is the one I make when I am feeling nostalgic or wishing I could dip into a pensieve and experience those childhood days again. It reminds me of childhood and our loving home.
When I spotted some locally made bratwurst in the butcher's display recently, I decided to indulge. Here in Maine, this sausage has been hard to come by. Sure, there are national brands making all sorts of sausages they call wursts, but they don't taste like I remember. The flavors are subdued — or altogether different. This sausage though looked the part.
I am happy to say it also tasted the part too.
In buying it though, I didn't want to have it as I did as a child — on a roll and piled with sauerkraut. I like it that way, but I wanted to use it as part of a breakfast skillet. Potatoes, onions, sausage, eggs, kale. That sounded just right.
Making Bratwurst Skillet with Eggs and Baby Kale for One
Breakfast skillets are delightful dishes where everything is cooked and served in a single pan. In this case, I did have to cook the potatoes first, but the ingredients are then all cooked together — a layering of flavors — to make the final dish.
Bratwurst Skillet with Eggs and Baby Kale is simple to make. Boil the potatoes until they are tender. Saute the onions until they begin to brown. Then begin mixing the ingredients together.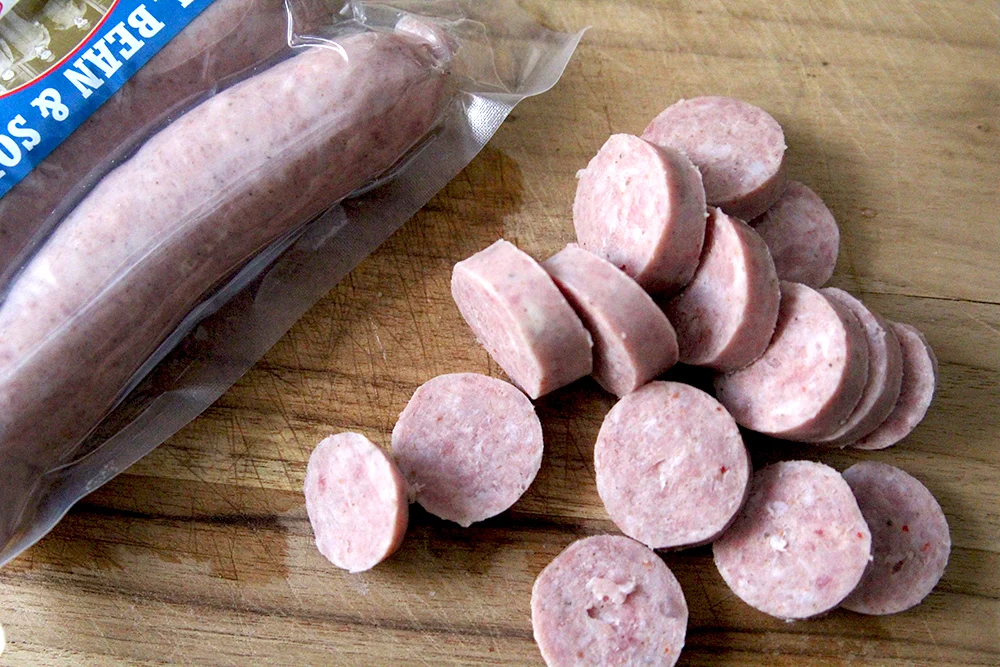 The potato and sausage join the onion in the skillet and saute a bit, covered. You're both letting the sausage (which comes precooked) heat up and allowing the potatoes to mingle with the onions.
Then the egg, whisked together with a little milk, joins the party too. Push all the other ingredients to the other side of the skillet before you add the egg — it needs room to cook. Once it's just set, mix everything together. Delightful.
Season the dish — sparingly — with salt and pepper. Stir in some baby kale (about a handful).
And serve. This Bratwurst Skillet is the best kind of food memory — it has the flavors of my childhood but is also modern, fresh and like nothing we would have eaten then. It's a combination of then and now.
Bratwurst Skillet with Eggs and Baby Kale
Hearty, warm and filling, this Bratwurst Skillet with Eggs for One is a delightful breakfast for cold days.
Ingredients
1 small potato (Yukon gold, red or white), diced (1/2-inch dice)
1 tsp olive oil
1 small onion, diced
1 bratwurst, sliced (make sure it's precooked)
1 large egg
1 tbsp milk
salt and pepper, to taste
1/3 cup baby kale (or more, to taste)
Instructions
Add the potatoes to a small saucepan and cover with water. Set on a burner and heat on high to boiling. Cook for about 10-12 minutes, until fork tender. Drain.
Meanwhile, heat the olive oil in a small skillet over medium heat. Add the onions and cook, stirring occasionally, until beginning to brown — about 8-10 minutes. Add the bratwurst and potatoes to the skillet and stir well to combine. Cover and cook for 3-5 minutes, until the bratwurst is hot.
Whisk together the egg and milk until well-combined.
Remove the cover and push the contents of the skillet to one side of the pan. On the other side, add the egg mixture. Cook, stirring constantly, until just solid. Mix with the other contents of the skillet.
Remove the skillet from the burner and season gently with salt and pepper. Add a small handful (about 1/3 cup) baby kale and mix with the contents of the skillet.
Serve immediately.