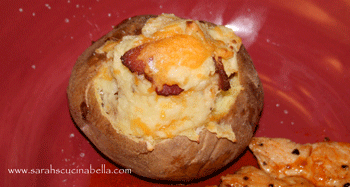 Growing up, I was never really a fan of baked potatoes. Back then, it was always baked, slice open, squeeze slightly and eat. Something about that — which is admittedly a classic way to serve 'em — just didn't do it for me.
It probably doesn't help that I don't like sour cream, so never really had a topping for my potatoes.
But as I grew older, I developed a taste for baked potatoes — with toppings and/or mix-ins of course.
Baked potatoes can be a great staple to add to the dinner rotation since they're filling and inexpensive. Just be sure to eat the skin too — that's where all the nutrients are.
I made these Cheddar Bacon Twice Baked Potatoes with delicious, golden-fleshed Yukon Gold potatoes, which are fantastic for mashing (and that is kind of what you do with the filling).
This is a toddler approved meal component. My son Will loved "finding" the hidden bits of bacon and cheese and ate nearly his whole (small) potato. Serve them with a bit of veggies and a 3-4 oz portion of lean protein for a tasty, balanced meal.
Cheddar Bacon Twice Baked Potatoes
Cook Time:
1 hour
25 minutes
Total Time:
1 hour
45 minutes
Ingredients
4 large Yukon Gold potatoes, , rinsed and scrubbed
1/3 cup milk
salt and pepper
3/4 cup grated low-fat cheddar cheese, , plus 1 tbsp
4 slices uncooked bacon, , chopped
Instructions
Preheat the oven to 400 degrees. Prick each potato a couple of times with a fork. Place on the rack in the oven and cook for 1 hour. Let cool for 10-15 minutes before handling.
Cook the bacon and discard any fat drippings.
Slice a thin strip off the top of each potato. Scoop out insides into a medium bowl. Add milk, salt and pepper to the bowl. Using a potato masher, mash well.
Stir in 3/4 cup of the cheddar and bacon. Scoop the potato mixture back into the potato shells. Divide the remaining tablespoon of cheddar among the potatoes. Return to oven and cook for an additional 15 minutes.
Let cool for 5 minutes, then serve.