Tender beef and veggies are cooked in a fragrant garlic-soy sauce in this quick and easy recipe for Garlic Soy Beef Stir-Fry.
In my single days, a mainstay of my cooking was stir-fry dishes. It is just so easy. Chop up a few veggies, toss it in a pan with a little oil and stir, stir, stir until the vegetables are done, then add sauce and serve over rice.
If you are feeling particularly ambitious, you might add a hint of meat too, but it's certainly not required. It's high on taste, low on fat and calories and just good eating.
However, over the past few years, I have stopped making stir-fries as often.
Why? I really don't know. Maybe I've been too seduced by other meals I have learned to make or maybe the chop, chop, chop just didn't seem as fun anymore.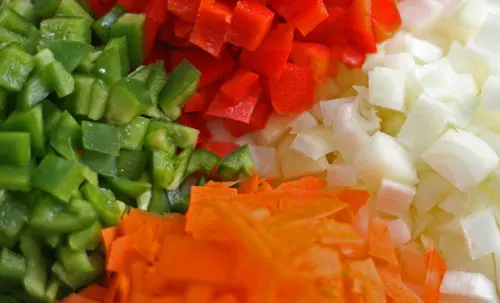 The other day though, when I was considering what I could possibly whip up with the sparse contents of my fridge, I decided to make a stir-fry. By cutting all of the veggies into bite-sized portions before cooking, this meal becomes super easy to eat alone or with kids.
Once finished, it can be just dished up and served, no further cutting required.
The sauce is a star in this dish. The nuances of cinnamon and allspice give the soy and garlic-based sauce a depth of warm flavor. It reminds me ever so slightly of a Moroccan chicken dish I make about once a year. Ever. So. Slightly.
So how'd the kids like it? Well, when I heated up leftovers the next day, they demanded more. I'd say it was a home run here.
Garlic Soy Stir Fry
Be sure to use a tender steak. For this, I used meaty trimmings from a filet rump roast I recently cut down into steaks. As a result, the meat was tender, buttery and perfect.
Ingredients
2 tbsp extra virgin olive oil
1 red bell pepper
1 green bell pepper
1 yellow onion
1 large carrot
1/2 cup soy sauce
1 tbsp minced garlic
1/4 tsp allspice
1/2 tsp cinnamon
6 ounces beef, chopped into bite-sized pieces
Instructions
First, prep the vegetables. Remove the stem and seed the peppers. Discard the waste. Then dice into small-ish pieces, about 1/2 inch by 1/2 inch. Next, peel the onion and discard the peel. Dice the onion into about a 1/2 inch dice. Finally, peel the exterior of the carrot. Discard peelings. Then, use the peeler to cut the carrot into strips. Pile the strips and run a knife through them to cut them down into smaller pieces.
In a large skillet, heat the olive oil over just under medium heat. Once it's hot, add the vegetables. Cook, stirring occasionally until the vegetables are softened, about 10 minutes.
In a small bowl, whisk together soy sauce, garlic, allspice and cinnamon. Add to the skillet and stir to combine. Add the beef to the skillet and cook, stirring frequently, for about five minutes until it's browned on all sides and the sauce is slightly reduced.
Remove from heat.
Notes
To serve: Place rice in a bowl and make a well in the center. Top with stir fry. Serve. A simple iceberg lettuce salad with carrot shards with soy-ginger dressing would make a great accompaniment.
Nutrition Information:
Yield:

4
Serving Size:

1
Amount Per Serving:
Calories:

235
Total Fat:

16g
Saturated Fat:

4g
Trans Fat:

0g
Unsaturated Fat:

10g
Cholesterol:

37mg
Sodium:

1787mg
Carbohydrates:

10g
Fiber:

2g
Sugar:

4g
Protein:

15g