James Beard once wrote:
Canapes

Here is a world in itself. The canape world presents all sorts of problems and rules which have been laid down by one person or another. I think I shall disregard the majority of them and proceed under my own power and see if I can't reach a logical and fairly simple conclusion. First of all, every well-built house needs a good foundation. We have the same problem here; so let's build some foundations.
That's a portion of the introduction of James Beard's Hors D'oeuvre And Canapes, an out-of-print book first published in 1940. I scooped up a copy at my town's annual library book sale a few years ago, and it's sat on my bookshelf ever since.
Most people know James Beard as the man for whom the James Beard Foundation is named – the organization that awards promising chefs, cookbook writers and food writers. But before all that, he was a chef whom the New York Times once dubbed "the dean of American cookery." Hors D'oeuvre And Canapes was his first book, and furthermore, the first major cookbook that dealt with the small bites that come pre-meal.
While the recipes for Hors D'oeuvres with, um, tongue, don't exactly appeal to me, Beard's writing is beautiful and inspirational. If you haven't heard him, you should.
As Beard was saying, a canape needs a good foundation. As for as that goes, puff pastry is a great one. At it's best, it's flaky and delicate, but yet sturdy too. And these days, we needn't fuss with ice water, flour and butter to make a good puff pastry. Trader Joe's carries a fantastic artisinal variety, and most grocery stores in America carry a passible version. Yes, you can make your own and it will be a wonder. But for those of us who are time pressed, with work, children, activities and obligations, a store-bought puff pastry will do just fine.
If Beard were alive today and he were to revise this book again, I am sure that he would include more recipes like this one. Beard was conscious of social trends — even mentioning food appropriate for watching sports. This is a great appetizer (or light lunch with a salad) for anytime, whether it's while watching the Sunday game or sharing laughs with friends.
And best of all, it's easy, inexpensive and tasty.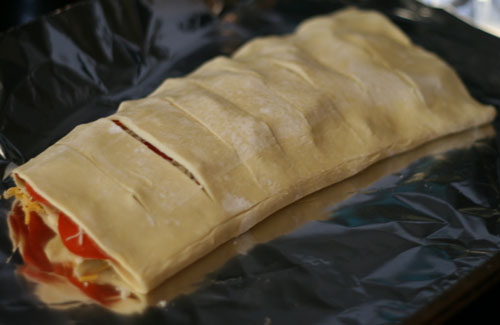 Puff pastry is filled with turkey pepperoni, a lower fat version of the American favorite, along with mozzarella and cheddar. You pre-cut the top of the pastry, so that once it's cooked (and puffed and flaky), it's easier to slice up and serve.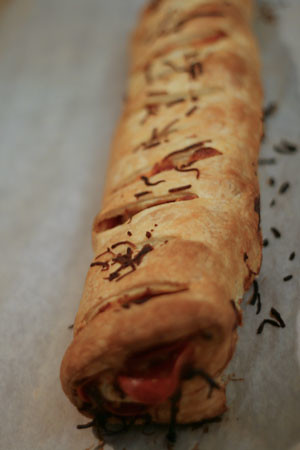 Turkey Pepperoni and Cheese Puff Pastry Recipe
Ingredients
1 sheet frozen puff pastry, , thawed
3/4 cup mozzarella cheese
1/3 package sliced turkey pepperoni
3/4 cup cheddar cheese
Instructions
Preheat the oven to 400 degrees. Line a rimmed baking sheet with parchment paper.
Roll out the puff pastry on a floured board until slightly thinned. Spread the mozzarella cheese down the center of the puff pastry. Cover with three rows of turkey pepperoni. Spread the cheddar on top.
Fold the two sides of the puff pastry in and transfer to the prepared baking sheet, with the seam-side down. Cut deep slits about one-inch apart down the length of the puff pastry.
Bake for 20-25 minutes, until the puff pastry rises and takes on a golden brown color.
Let cool for 10 minutes, then slice and serve.