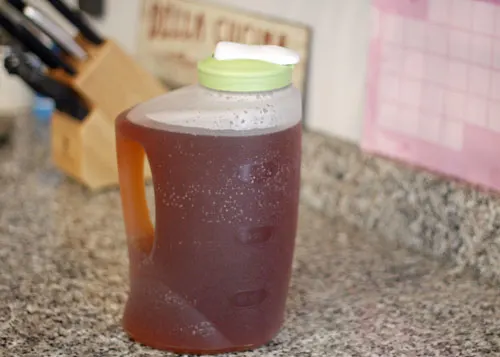 Today's is a great, easy homemade iced tea. We all love iced tea and this one is a wonderful, refreshing one, perfect for any adventure. And hey, how timely! This month is National Iced Tea Month. Who knew that such a thing even existed!
This is a great, fast thing to make with children. My kids and I gathered in the kitchen this morning, measuring and counting out tea bags to get this ready to go.
It's a fantastic way to practice counting skills and reinforce number recognition with your kids. We counted the tea bags by 2s, which is a great skill for my almost-5-year-old. And Paige, who is wise beyond her years, helped me figure out when I hit the four cup line on my measuring cup when measuring the water and apple juice.
As for the beverage itself? This is a ridiculously easy recipe for making iced tea. Sweetened with apple juice (a trick I picked up from my cousin when she introduced me to a fab Barefoot Contessa iced tea), you don't have to worry about settling sugar or getting the proportions perfect since the measurements are just so easy.
We use a funnel to make pouring the brewed tea way easier.
You'll need a 1-gallon pitcher for this one. I picked mine up at Target. Splurge for a good one … the seal is so much better and you are way less likely to have spillage.
Off to our adventure … but be sure to check in this week — I have a great orzo recipe for tomorrow and a wonderful guest post on Wednesday. Total must-read from a fabulous blogger.
Easy Mango Iced Tea
Ingredients
8 cups water
16 mango black tea tea bags
8 cups chilled apple juice
ice
Instructions
Boil the water. Add the tea bags and let brew for 10 minutes.
While the tea is brewing, add the apple juice to a 1 gallon pitcher.
Strain the tea bags using a heavy duty spoon and a fine mesh strainer. Discard the used tea bags. Pour the brewed tea into the pitcher. Add enough ice to make it one-gallon. Chill until ready to serve.