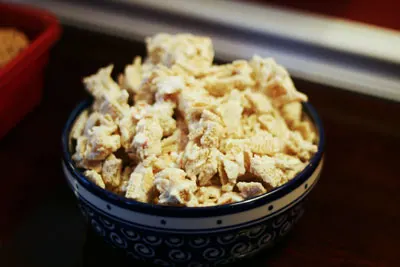 Merry Christmas! It's been a whirlwind few weeks of assignments, shopping and wrapping. I hit the mall late at night and shopped early in the morning too. Several times. But somehow, I managed to get it all done. Now, all that's left is to enjoy … and I can't wait. For the first time in weeks, I am all caught up on work, and have the whole weekend off. Time to unplug and be completely relaxed.
Most of all, I can't wait to see everyone's faces when they open their gifts tomorrow (or should I say today? It is after midnight here, after all).
But first, I've been waiting all week to share this recipe with you. When I wrote about this version of Chex Mix, called Reindeer Feed, for a Tablespoon assignment, I had to try it. Rice Chex. White Chocolate Chips. Crushed Candy Canes. Um, yum! It hits all the right notes. I made it for a party, and was so pleasantly surprised to find that everyone — young and old — happily grabbed handfuls and remarked on how good it was.
Heck, you might even have the ingredients on hand to make it right now. If you do, then do it. It's worth it. You can also find the recipe over on Tablespoon. Print it. Try it. Love it.
And now, it's time to power down and unplug. Have a wonderful holiday and a wonderful weekend.
Reindeer Feed Chex Mix
Ingredients
6 cups Rice Chex™ or Chocolate Chex™ cereal
1 bag, (12 oz) white vanilla baking chips (2 cups)
1/3 cup coarsely crushed peppermint candy canes, (14 miniature, unwrapped)
Instructions
Line cookie sheet with foil or waxed paper. Place cereal in large bowl.
In microwavable bowl, microwave white vanilla baking chips uncovered on High about 1 minute 30 seconds, stirring every 30 seconds, until chips can be stirred smooth. Stir in half the crushed peppermint candy.
Pour over cereal; toss to evenly coat. Spread mixture in single layer on cookie sheet. Immediately sprinkle with remaining candy. Let stand until set, about 20 minutes. Gently break up coated cereal. Store in airtight container.