This is a delicious, easy macaroni and cheese … but we will get to that in a minute.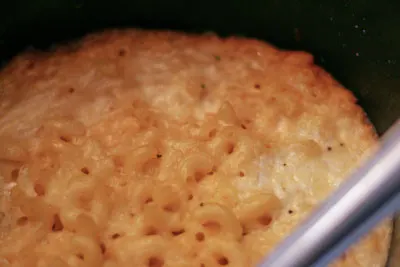 Until I was in high school, I visited Santa every year — either at the mall or some store that hosted him. It was a thing, a must. But with Will and Paige, I haven't made it a priority.
Honestly, for the first couple years, we tried the whole mall Santa thing, and it didn't work out. Sorry, but I don't want any photos of my kids sobbing on some random Santa's lap (which we all know is one of Santa's helpers, since Santa can't be everywhere all the time).
This year, I tried to do something awesome with the kids. Over the weekend, we headed out to a small Santa train ride event not far from our house. Will and Paige have always wanted to ride a train and it seemed like the perfect opportunity when a friend discovered it.
Trains? Santa? Hot chocolate? Score!
I don't even know where to begin. The ride amounted to little more than inching forward, inching back and going forward again. Will was bored. Paige was still waiting for the ride to stop when we were supposed to get off the train and go meet the big guy.
In short: it sucked.
But the very worst part? The unfriendly Santa with the falling-off beard. He wasn't jolly. He didn't laugh or "ho-ho-ho." Heck, he didn't even say hello or greet the kids at all when it was Will and Paige's turn (what exactly was he waiting for, anyway?). And it certainly didn't help that his do-called Elves weren't even in costume.
Bah, we won't be going back there. Though I have heard that there are some truly fabulous train rides like this. Have you taken one? Dish in the comments.
Now onto the Slow-Cooker Macaroni and Cheese. This has to be the easiest recipe for macaroni and cheese that I have ever, ever made. You basically throw everything in a slow-cooker and cook it up. That's all. No stirring over the stove necessary. Heck, I might even whip up a double batch for Christmas.
This recipe calls for cheddar, which is my favorite for macaroni and cheese. What cheese do you like in yours?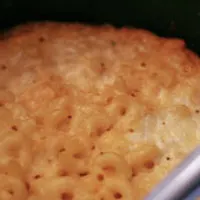 Slow-Cooker Macaroni and Cheese
Total Time:
4 hours
15 minutes
adapted from Not Your Mother's Slow Cooker Cookbook
Ingredients
2 cups lowfat milk
1 12- oz can evaporated milk, (lowfat preferred)
1 large egg, , lightly beaten
1/4 tsp kosher salt
1/8 tsp ground black pepper
2 cups shredded sharp cheddar cheese
8 oz uncooked elbow macaroni
2 tbsp freshly grated Romano cheese
Instructions
Spray the inside of your slow-cooker with cooking spray. Whisk together the milk, evaporated milk, egg, salt and pepper. Add the cheddar cheese and macaroni and stir well. Top with a sprinkling of the Romano cheese all over.
Cover the pot and set the heat to low. Cook for 3 to 4 hours, until cooked through. The cheese should set in the center, and the pasta should be tender. But don't overcook. It should be done after no more than four hours.
Serve.