In search of a perfect dip to add to your game day food repertoire? This Chili Cheese Dip is a quick and easy recipe that everyone loves.
The Super Bowl is this Sunday, and whether you are a football fan or not, it's a perfect time to throw a party and invite a few fun friends.
Before I go any further, I have to confess that I feel like the Super Bowl should have been played weeks ago since I have been writing about it for nearly two months — for work.
Back when I wrote for newspapers, everything was done with little lead time. If we were going to write about a Christmas miracle, it would literally be the week of Christmas. If we were going to cover the start of the strawberry season, it would be on opening day at a local strawberry field. Everything happened in real-time, and it was grand.
One unexpected consequence of transitioning from newspapers to magazines to the internet has been the gentle change in how coverage is planned. Sometimes, like on this blog, things are pretty immediate. I finish testing a recipe, write about it and post — and you are reading it within minutes. But other times, like with my freelance recipe development work, things have a lead time. It takes some getting used to — especially when it comes to holidays and celebrations.
The good news? I have tons of game day appetizers to share.
On BettyCrocker.com:
On Tablespoon.com: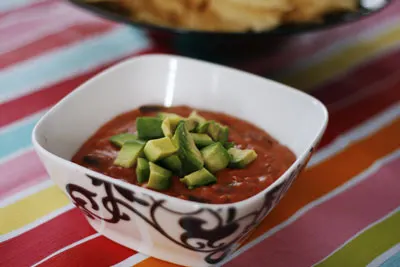 And then there is one more … this fabulous Chili Cheese Dip. It's super easy to make — you combine sharp cheddar and chili and heat it until the cheese is all melted and combined with the chili. You can use homemade chili or canned — whatever you prefer. Heck, you could even buy chili from your fav local place and make it with that.
Don't you love a flexible recipe? I do!
So, what's your perfect game day food?
Chili Cheese Dip
Ingredients
2 cups chili, I used leftover homemade turkey chili
2 cups extra sharp cheddar cheese
1 avocado, diced
tortilla chips
Instructions
Combine the chili and cheddar in a medium saucepan. Heat over medium heat, stirring frequently until the cheese is melted and fully combined with the chili.
Pour the dip into a serving bowl. Garnish with diced avocado and serve with tortilla chips.