When my husband and I moved to our town, I didn't realize what a small town we were moving to.
I mean, in theory, I knew.
The main street is a small drag with a few well-frequented businesses. The school district has neighborhood schools, which all seem a stone's throw away from where the kids live. And everyone told me that it was a really small town mentality.
But it wasn't until I started working at home, frequenting our local businesses and the kids started school that it sunk in. This is small-town life.
This morning I was working in a coffee shop in town, a welcome change of scenery allowing me to really focus on the edit/rewrite assignment I was working on. While there, I ran into a local parish priest, my daughter's teacher and I saw several other women whom I recognize from various school and town activities. And it was a slow day there.
That's how it is in a small town. Forget six degrees of separation — it's more like one degree of separation here.
Living in a small town has taken me way beyond my comfort zone. Back when I lived in New York, which was eons ago now, it was easy to just blend in and be one of the masses, getting from point A to point B quietly, alone. Here, a visit to the farmers' market is punctuated by hellos. It's not a bad thing. Just different.
A part of me loves that wherever you go, if you welcome the small town thing, there is someone you know, someone to talk to. But, of course, the private part of me still wishes for anonymity. There has to be a balance of the two.
Balance is something important to cooking as well. You can't have too many soft textures together, because it will just feel like mush in your mouth. Likewise, too much crunch is too much. You need a little softness, a little crunch, a little sweetness and a little salt. Sometimes, a little heat too. It all keeps a dish interesting.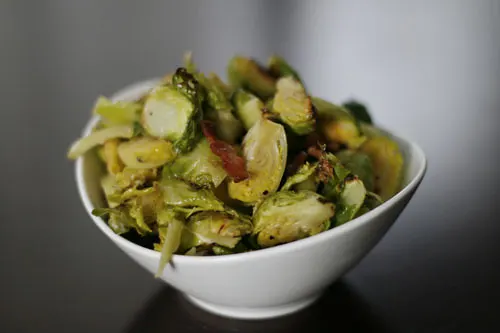 This Brussels sprouts recipe walks that line between tastes and textures. It's delicious with the creamy melted blue cheese and salty bits of bacon. But if you want to take it up a notch, sprinkle a little hot sauce in too.
Either way, it's delicious.
Bacon and Blue Cheese Brussels Sprouts
Ingredients
1 lb fresh Brussels sprouts
olive oil cooking spray
kosher salt and pepper, , to taste
4 slices bacon
1 oz blue cheese, , crumbled
OPTIONAL: hot sauce
Instructions
Preheat the oven to 400 degrees. Line a baking sheet with aluminum foil.
Trim the ends of the Brussels sprouts and then quarter them. Spread out on the aluminum foil-lined tray. Spray with olive oil cooking spray and then sprinkle with salt and pepper.
Bake the Brussels sprouts for 15 minutes, stirring once.
Meanwhile, brown the bacon in a skillet. Remove from the pan and drain on paper towels.
Once the Brussels sprouts are done cooking, pour into a medium mixing bowl. Crumble the bacon on top and sprinkle with blue cheese. Toss well to combine (do this quick so that the blue cheese melts a bit as you toss).
If desired, sprinkle with hot sauce.
Serve immediately.