My kids surprise me sometimes. Choosing to eat things I never imagined they'd like (anchovies, for example), and then loving them. Begging for delicious, exotic foods. Polishing off a whole batch of palmier cookies.
That last one? It happened last month when I was working on a recipe for palmiers for Tablespoon. Palmiers, which are also called elephant ears, are crispy layered cookies with sweet fillings. That batch was a basic sugar recipe, and I was shocked – SHOCKED – to find out they ate the whole batch while I was out one afternoon.
Talk about recipe success.
Almost immediately after, Will asked if we could make more. But he wanted to try a different filling. Together, we devised a plan to fill them with peanut butter and chocolate. I didn't immediately have time to try it out, but Will didn't let me forget (his memory takes after mine!). So, I finally did whip up a batch to take to a dinner party for dessert recently.
Oh my. They were good (and were gone super fast).
Making these is easy. Really, really easy. You start by spreading peanut butter all over puff pastry dough (I use the frozen dough from the supermarket — make sure it's good and defrosted).
Then you sprinkle it all over with mini chocolate chips. The mini ones are the perfect size for this since they form an even layer without lumpiness.
Next, you roll the dough up — start at one end and roll, stopping at the center point. Then repeat with the other end.
Cut the rolled dough into slices.
Arrange it on a cookie sheet. And then bake.
Hands-on time? About five minutes … 10, if you move slowly.
Nothing like a dessert that can be ready to eat in 30 minutes or less. Right?
Do you have a favorite palmier variety? Share!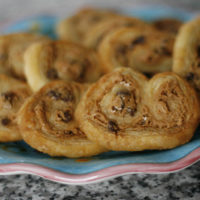 Peanut Butter Chocolate Palmiers (aka Elephant Ears)
Ingredients
1 sheet puff pastry, (defrosted, if using frozen)
about 1/4 cup creamy peanut butter
1/4 cup mini chocolate chips
Instructions
Preheat the oven to 400 degrees. Line a baking sheet with either nonstick aluminum foil or parchment paper. Set aside.
Lightly flour a cutting board and lay out the defrosted puff pastry dough. Use a butter knife to spread a generous layer of peanut butter all over the dough. Sprinkle with the chocolate chips, taking care to make sure the chocolate chips are evenly spread out all over the dough.
Next, you roll the dough. Start on one end and roll towards the center (stopping at the center). Then repeat with the other end of the dough. Use a sharp knife to cut the dough into 1/4 inch slices. Arrange on the prepared baking sheet, leaving about 1-inch between the cookies.
Bake for 15-20 minutes, until the dough is fully cooked and lightly browned.
Let cool for a few minutes. Serve immediately, or cool completely and store in an airtight container for up to 5 days.