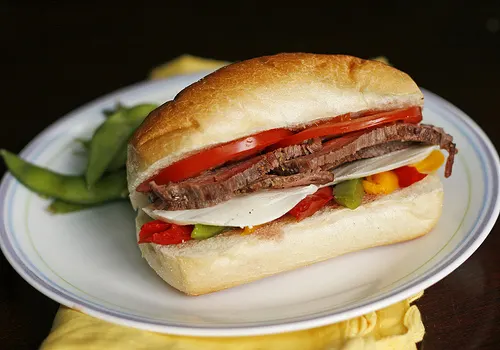 Do you eat your meals together as a family? The kids and I eat dinner together nearly every evening, usually around our kitchen table. Shawn's not home for dinner often because he has to work late and has a lengthy commute, but when he is, we all eat together as well. I'm dying to get a new kitchen island with adorable stools so that I can prepare and eat our food there when it's just the kids and I, but I digress. We also eat breakfast as a family several times a week. Lunch is a free for all.
Eating together is a time for us to talk about our days — the silly antics of the boys in Will's kindergarten class and the random tidbits about her classmates that Paige shares. We laugh and are sometimes silly. This past weekend, the kids and I had dinner outside followed by a rule-less game of baseball. It was so much fun.
According to a new study published in the May 2 edition of Pediatrics, our family dinners could be much more than just fun — it could be helping my kids avoid obesity. Kids who eat three or more family meals each week are 12 percent less likely to be overweight than those who don't eat family meals or seldom do. If they eat five or more meals as a family each week, they are 25 percent less likely to have poor nutrition. If you want to raise healthy kids (I do!) then this is important and good news. Researchers developed the data after analyzing 17 earlier studies and comparing the data.
This all underscores our family's commitment to eating together. Not only do we make family meals a daily habit (and that extends beyond just dinner), we also have a standing weekly family dinner with our extended family who live nearby. Some weeks (particularly at the holidays and sometimes in summer), that means upwards of 20 family members all together at once (Related: Tomato Bisque for 12). It's special, and we love it.
Today seemed like the perfect time to talk more about family meals, including some interesting results from the Sarah's Cucina Bella Family Meals Survey 2011 that I conducted earlier this year.
First, a little background: Earlier this year, I started an intense research project for a book proposal. The book I am developing is a more in-depth, more useful version of the unpublished one that I wrote years ago. (Recap for newer readers: In 2007, I was contracted to write a cookbook by a very small publisher, handed the manuscript in on schedule and then … nothing. A year and a half later, a short email exchange between my publisher and I ended the contract and the book reverted to me.). The original book was fine, but after much consideration, I realized it was missing something. So, I've started afresh, researching and learning more about the eating habits of families. As part of that, I conducted a preliminary survey on family meals to get a better understanding.
There were more than 100 responses to the Family Meals Survey 2011, but I disqualified any incomplete surveys, leaving me with 94 completed surveys. Of those, 85.1% were filled out by mothers. One of the things I was looking to understand was what really matters to parents when it comes to eating family meals. I think that's a personal thing and not something where I could ever claim to have all the reasons. Everyone's perspective is different, naturally.
So, what makes a family meal? For the majority of respondents (58.5%), having the whole family there is the most important aspect of a family meal. Also important is the happiness level of the table, said 40.4% of the respondents. Everyone being present in the moment (29.8%), being disconnected from technology (26.6%) and the quality of the food rounded out the top five responses (26.6%).
Some other interesting statistics from the Sarah's Cucina Bella Family Meals Survey 2011:
Nearly two-thirds of respondents do not have a standing date for family dinners. 37.2% do.
Dinner is the meal most-often eaten together, according to my survey (91.5% of respondents said so!). The other 8.6% were split evenly between breakfast and lunch.
66% of respondents shop in advance for ingredients, and 48.9% create a meal plan. 17% shop that day for the ingredients they need.
59.6% search the internet for recipes, and 29.8% look through cookbooks.
About a quarter of the respondents enlist their children to help plan the meal. 18.1% also involve their kids in the preparation of ingredients and 19.1% have their kids help with the cooking.
How important are family meals to you?
Speaking of family meals, this sandwich is perfect for a family dinner. It's a stuffed sandwich that starts with a grilled London broil rubbed with your favorite spices, salt and pepper. I chose London broil because it is — even now — one of the least expensive cuts available, and with this recipe, 1 pound of it can feed 8 people (as long as you serve it with several side dishes).
These days, budget-friendly meats are a must for nearly everyone. Once the meat has been grilled and rested (resting is so, so important so that it's juicy), you slice it ultra-thin against the grain. Use your sharpest, big knife and sharpen it more just before slicing. It will make the whole thing a breeze.
Once the meat is all sliced up and ready, you layer the sandwiches with steamed bell pepper slices, thin slices of fresh mozzarella cheese (or thin slices from a block of mozzarella, if you want to save a little more) and tomato. The freshness of the veggies with the salty cheese and spiced meat will hook you. My son immediately asked if he could take the sandwich for school lunch too (and today he did — but I traded the tomato for lettuce so that the roll wouldn't get soggy).
Easy Steak, Veggie and Mozzarella Sandwich
Ingredients
1 lb London broil
kosher salt and pepper
spice rub of your choice
8 deli rolls
1 cup steamed sliced bell peppers, (I used frozen from Trader Joe's)
2 to matoes, , sliced thinly
8 slices mozzarella, (I used Fresh Mozzarella from Costco, but a block of mozz could be substituted)
Instructions
Heat your grill over its medium setting for 10 minutes to get it good and hot. Prepare the London broil by rubbing with salt, pepper and spice rub all over.
Place the London broil on the grill and cook for 6-8 minutes per side, to desired doneness (recommended: medium). Remove from the grill and let sit for 10 minutes. This step is important, as it allows the meat to reabsorb its juices.
Slice the London broil very thinly against the grain with a sharp knife.
Now, it's time to prepare the sandwiches. Slice open the rolls and layer with thin slices of London broil, mozzarella, tomato and peppers. Don't be afraid to stuff the sandwiches. Close and cut in half.
Serve immediately with a couple family-favorite side dishes (we ate ours with salted, perfectly cooked edamame) such as a big green salad, baked beans and corn on the cob.
Enjoy!