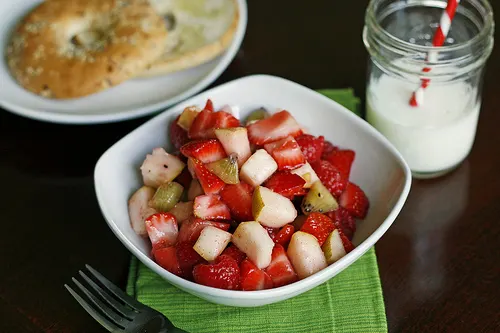 For a long, long time I have avoided any recipes that fall into the fruit salad or fruit cup or fruit cocktail genre. As much as I love these delightful sweet salads, I just didn't see the point in offering recipes for them. The reason was simple: fruit salad is ridiculously easy and adaptable, and I felt like I would be insulting you to write about one. I mean, really, fruit salad in any rendition can hardly be a recipe, right?
Wrong. So wrong.
I guess I was thinking about fruit salad (fruit cocktail, fruit cup … whichever you prefer) as just cut up fruit tossed together — and sometimes it is. But it doesn't have to be just that. It can be something more in depth, pulled together with a sauce or syrup to lend a slight similarity to different fruits. And when you are talking about fruit cup or fruit salad or fruit cocktail in those terms, a recipe is totally in order.
I'd like to introduce you to Summer Fruit Cocktail with Lime-Vanilla Bean Simple Syrup.
Don't let the title mislead you. This fruit cocktail is neither too tart or sweet. The Lime-Vanilla Bean Simple Syrup instead lends a subtle sweet-tart to the dish, and brings the fruity flavors together. It's like the ribbon holding a stack of love letters, binding it without becoming the contents. And despite the long name, it takes a relatively short time to toss together.
I suggest chilling it for 30 minutes to an hour before serving … but if you are pressed for time, you could eat it right away instead. It's all up to you.
I like to eat this for breakfast with a barely buttered thin bagel (Thomas' Everything Bagel Thins are so good. No, they didn't pay me to say that. I discovered them at Costco and bought them all on my own) and a glass of milk. Just in case you were wondering.
Tell me about your favorite fruit cup, cocktail or salad!
Summer Fruit Cocktail with Lime-Vanilla Bean Simple Syrup
Ingredients
1 kiwi, skinned and cut into a 1/2-inch dice
2 cups strawberries, washed, hulled and cut into a 1/2-inch dice
1 cup raspberries, rinsed
1 medium pear (I use a D'Anjou), washed and cut into a 1/2-inch dice
2 tsp fresh lime juice
2 tsp organic sugar (regular granulated sugar is ok too)
1/2 vanilla bean
Instructions
Combine the kiwi, strawberries, raspberries and pear in a medium mixing bowl. Set aside.
In a small saucepan, whisk together the lime juice, sugar and vanilla beans over medium heat until the sugar dissolves. Remove the pan from the heat and pour over the fruit. Toss well to combine.
Cover and chill for 30 minutes to 1 hour before serving.