The end of school for this year is almost here and it's really hard to believe. Wasn't it just yesterday that I was freaking out about catching the school bus, and adjusting to having two kids in school?
Surely it was mere days ago that I was figuring out how to pack cool lunches for Will and worrying that he had enough to fill him up at lunch. Right?
Ok, ok. We all know that was really10 months ago. It just went so fast. Where did the time go?
Now that school is ending, we like to give tokens of appreciation to the teachers and bus drivers who made a difference in my kids lives this year. And after three years of having at least one child in school, I have the whole appreciation gift thing in control. (Well, at least in better control than in years past.)
Sort of.
I decided on a dual gift for the teachers — something special from my kitchen and a gift certificate. For Teacher Appreciation Week, I'd given a few of the teachers Chocolate Chip Banana Bread in a Jar, so that was out (along with anything else in a jar). And I wanted it to be something a little bigger — something they could share if they wanted. Mini-loaves of bread was the perfect solution.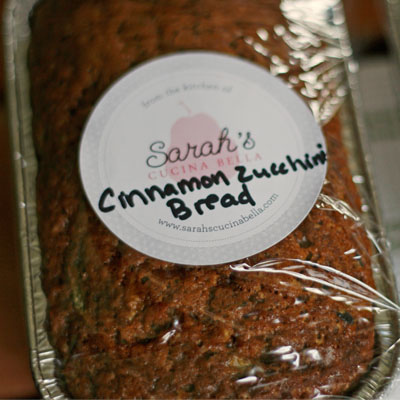 I went with this mouthwatering recipe for Cinnamon Zucchini Bread Mini-Loaves. They have a lighter crumb and a fabulous, rich flavor. If you've never had zucchini in bread before, ignore that it's in the title and try this anyway. As long as you like cinnamon, you will love this bread. The zucchini lends a moist crumb to this bread along with speckles of green — but that's it. So, don't fear the zucchini, I swear.
When I was making this, I modeled this bread after my Cinnamon-alicious Zucchini Bread. But really, they are different loaves. This one is a little less sweet, but with a bigger punch of cinnamon. Try it warmed, it's so good like that.
What's your favorite food gift to give?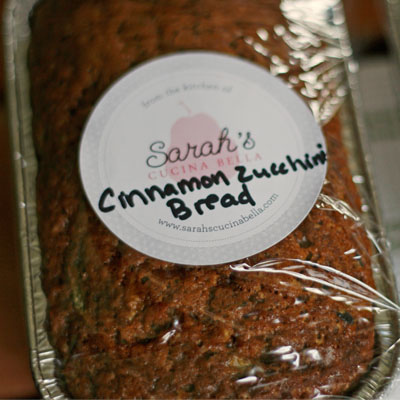 Cinnamon Zucchini Bread Mini-Loaves
Ingredients
1 1/2 all-purpose flour
1 tsp baking powder
1 tsp baking soda
1/2 tsp kosher salt
2 tsp ground cinnamon
1/4 tsp ground nutmeg, preferably fresh
1/2 cup canola oil
1/2 cup organic sugar
2/3 cup light brown sugar
2 large eggs
1 cup grated fresh zucchini
1/2 tsp vanilla extract
Instructions
Preheat the oven to 350 degrees. Set 3 mini-loaf pans on a baking sheet.
In a small mixing bowl, sift together the flour, baking powder, baking soda, salt, cinnamon and nutmeg. Set aside.
In a medium mixing bowl, whisk together the canola oil, organic sugar and light brown sugar. Add the eggs, one at a time, whisking well after each addition.
Stir the zucchini and vanilla extract into the wet ingredients. Add the dry ingredients and stir until just moistened.
Divide the batter evenly among the three mini-loaf pans. Slide the baking sheet into the oven and bake for 35-40 minutes, until a toothpick inserted into the center of the bread comes out clean.
Let cool on a wire rack.
Cover tightly and then eat within 3-5 days.