Flavorful grilled chicken? Easy marinade? These Grilled Caesar Chicken Strips totally deliver.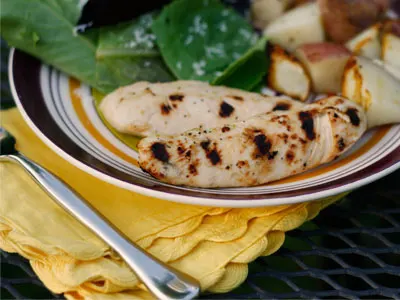 Does this plate look familiar? It should. It's the same plate from the Herbed Grilled Red Potatoes, just shown at a different angle. Generally, I don't end up photographing two new dishes at the same time, but when this super simple chicken dish worked out so well that I wanted to share it.
But I have to warn you. This recipe is so simple, it almost doesn't need to be presented in recipe format. But I think that sometimes even simple things are easiest to glance and cook with so the recipe is below. Look, it's worth it.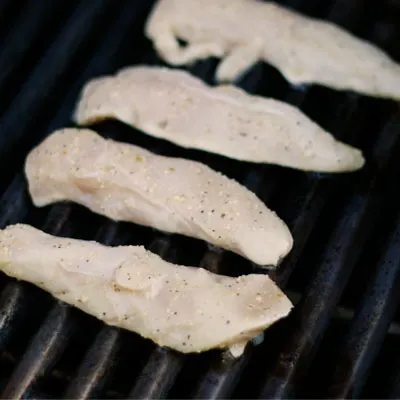 Grilled Caesar Chicken Strips are a new take on the classic Italian dressing-marinated grilled chicken. Basically, you make a really flavorful, easy and fast chicken tender dish (strips of chicken breasts can be used instead if you can't find chicken tenders) and marinate it in Caesar dressing. Then it's grilled to perfection.
They are just perfect served with a salad. Though, it doesn't have to be a Caesar salad (but that could be amazing).
Grilled Caesar Chicken Strips
Additional Time:
30 minutes
Ingredients
1 lb chicken tenders, (raw chicken)
1 cup Caesar dressing
Instructions
Combine the chicken and Caesar dressing in a resealable container or bag. Marinate in the fridge for at least 30 minutes.
Heat the grill up to its medium setting (or prepare the charcoal for grilling). Once the chicken is marinated, Lay it across the grates. Cook for about 3-5 minutes per side, flipping once until cooked through.
Serve immediately with a salad.