Filled with fall vegetables and seasoned to a mild heat, this Autumn Vegetable Chili recipe is a crowd-pleaser.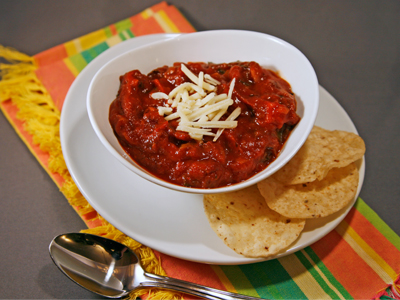 Last weekend, I was thinking up new recipes to work on when this idea for a veggie-filled chili came to mind. I'd almost call it a girl's chili, but I truly hate when people refer to certain dishes as "man food," so I surely shouldn't be hypocritical and call this "girl food."
It's anyone who loves veggies food.
Really, this chili is all about fall produce. It begins with peppers, eggplant, leeks and kale — all from the farm where I get my CSA box … but you could easily find these in the grocery store or at the farmers market. The veggies, which are plentiful, bulk up the chili and make it feel substantial as you eat it. Once the veggies are all softened, you add in the (antioxidant-rich) tomatoes and beans … oh and the seasonings too. Then it just has to simmer.
You'll notice that in the recipe, I am decidedly vague about the seasoning amount. Seasoning chili is a hard thing for me. While I love knock-your-socks-off hot chili, my husband and kids don't. Not even close. So I always have to go mild for them. For myself, I and then doctor mine so that it has that bite that I crave.
Maybe someday we can be on the same page about the heat? Maybe? Eh, who am I kidding …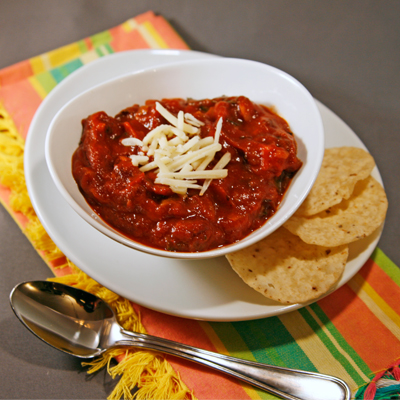 Autumn Vegetable Chili
Total Time:
10 hours
15 minutes
Filled with fall vegetables and seasoned to a mild heat, this Autumn Vegetable Chili recipe is a crowd-pleaser.
Ingredients
2 tbsp canola oil
1 bunch leeks, rinsed and chopped
1 cup chopped sweet bell peppers
1 cup chopped fresh kale
1 cup peeled and chopped fresh eggplant
1 tsp salt, plus more for seasoning
1 29- oz-can tomato puree
1 6- oz-can tomato paste, plus two cans of water
chili powder, 1 tbsp for mild, 2 for medium, more as desired
1 tsp cumin
pepper, to taste
1 15- oz-can dark red kidney beans
Instructions
Heat the canola oil in a heavy bottomed pot over medium heat. Add the leeks and cook 3-5 minutes, until softened.
Add the peppers, kale, eggplant and salt. Stir well. Cover and cook for 5 minutes. Stir well.
Add the tomato puree, tomato paste, water, chili powder, cumin and pepper. Stir well. Stir in the kidney beans. Reduce the heat to low and cover. Simmer for 20 minutes, stirring occasionally.
Sarah Walker Caron is a cookbook author, freelance writer and founder of Sarah's Cucina Bella. She is the author of four cookbooks including The Super Easy 5-Ingredient Cookbook and One-Pot Pasta, both from Rockridge Press. A single mother to a tween and a teen, Sarah loves nightly family dinners, juicy tomatoes plucked fresh from the vine and lazy days on the beach. She also adores reading and traveling.