These Rosemary Romano Roasted Turkey Cutlets are a juicy, flavorful alternative to cooking a full turkey that everyone will love.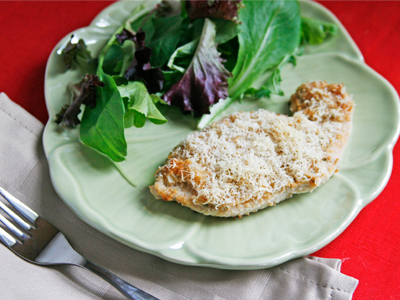 The first Thanksgiving after I graduated college was disappointing at best. I'd made plans to spend Thanksgiving with my cousins, which I was really looking forward to. But then my car died suddenly and my plans were totally derailed.
Without a car, I had to cancel my plans at the last minute.
Thanksgiving dinner was ruined for me, since I didn't know how to cook a turkey — and didn't want to. Instead, I ended up eating a frozen chicken dinner.
No turkey. No cranberries. No million side dishes.
I wish I'd known about turkey cutlets — boneless, thin cuts of turkey that are easy and fast to cook — back then. If I had, I could have whipped up a super easy stress-free last-minute Thanksgiving dinner. Hindsight, right?
These easy, juicy Rosemary Romano Roasted Turkey Cutlets are a delicious way to enjoy turkey this Thanksgiving (or any day). Basically, you make a paste of rosemary, salt, garlic powder and a little mayo. Then you spread that onto one side of the turkey cutlet. Top it with breadcrumbs and a little Romano cheese and it's ready to be baked.
Did I mention this takes about 30 minutes to make — tops?
The secret to the juiciness of these cutlets is that they are rubbed with the mayo mixture which locks in the moistness. And with rosemary and a hint of garlic mixed in, it's just perfect. The breadcrumbs and rosemary add just the right amount of texture and saltiness.
Whether you are looking for a last-minute turkey solution or just looking for something easier than a whole turkey, these Rosemary Romano Roasted Turkey Cutlets are a great option that won't disappoint.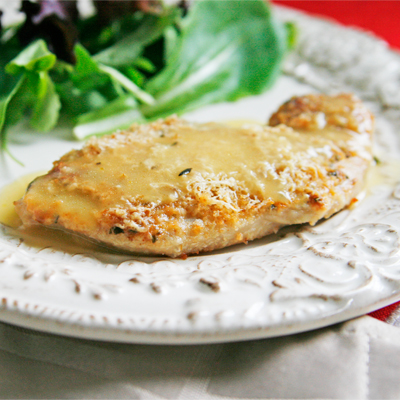 Of course, these aren't just good for Thanksgiving. Really, turkey cutlets can be enjoyed all year long. Why not make some tonight?
To serve: These Rosemary Romano Roasted Turkey Cutlets are great alone, but they are also amazing topped with Foolproof Herbed Turkey Gravy.
Easy, Juicy Rosemary Romano Roasted Turkey Cutlets
Ingredients
1 tsp minced fresh rosemary
1 tsp kosher salt
1/4 tsp garlic powder
2 tbsp mayonnaise, recommended: Hellmann's
4 turkey cutlets, about 1 lb
4 tsp plain breadcrumbs
freshly grated Romano cheese
Instructions
Preheat the oven to 375 degrees. Line a baking sheet with nonstick aluminum foil.
In a small bowl, stir together the rosemary, salt, garlic powder and mayonnaise until well combined. Set aside.
Rinse the turkey cutlets under cool water, then pat dry. Place the cutlets on the baking sheet.
Divide the herb mixture evenly among the four cutlets, spreading it out all over the side of the cutlet facing up. Sprinkle 1 teaspoon of breadcrumbs onto each cutlet and then sprinkle with Romano cheese.
Bake the turkey cutlets for 20-25 minutes, until cooked through and golden brown.
Love this recipe?
Then you'll want to check out my cookbook, The Super Easy 5-Ingredient Cookbook, published by Rockridge Press. It's all about cooking well, easily and simply. It's filled with easy, accessible recipes that the whole family will love. We're talking one-pan, 30-minute and no-cook recipes for every meal of the day.