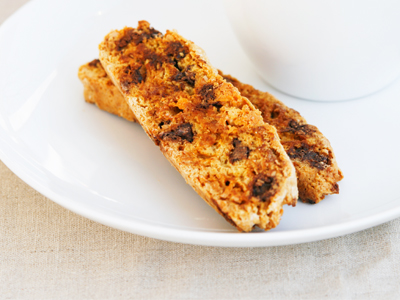 Right now, I am sitting in a Starbucks, sipping a Venti Nonfat Peppermint White Mocha and praying I can finish this blog post and hit publish in the next six minutes — before I have to dash out of here and head back to get my daughter from ballet so we can head to my son's school for his winter concert. It'll be the second winter concert we've attended today, the first being my daughter's this morning, and the third time I've been to the school today.
It's that kind of day. And let me tell you, these biscotti — they are not for making on a day like today. While they aren't hard to make, they do take some time and a little patience. And a dash of ends-justifies-the-means. Save this one for later this week, when you have a little time to spare — it's totally worth making.
This biscotti is filled with chocolate (my favorite kind!) and has a light hint of coconut — it's really subtle. These bake up perfectly crisp and are fabulous dipped in a cup of fresh, strong coffee.
You start by mixing up all the dry ingredients. Just stir them all together in a bowl. It's really that simple.
Then you whisk together the wet ingredients and add them to the dry ones. Don't be fussy about it — just pour it all in.
When you stir it together, it will look all crumbly — like it couldn't possibly form a dough, let alone make those fabulous slices of crisp biscotti. Don't worry. It will. This is the point where you turn the dough out on a floured board and knead it like crazy for two minutes or so.
Once it's all kneaded, you form a log. I did it on the cutting board this time, but generally, it's easier to do this directly on the baking sheet. Which ever way you do it, the next step is to pat it into a 1-inch-thick log that's sort of rectangular shaped.
Then you bake it. This is what it looks like after the first bake. After this, you cut it into 1/2-inch slices and rebake it. Twice (once for each side of the slice.). Then it's done. Well, once it's cooled it is. You know what I mean.
These are perfect for packing up with a coffee gift card for teacher's gifts. It's what all of Paige and Will's teacher's got this holiday.
Or you could just eat them yourself with a cup of coffee. It's a fabulous breakfast.
Now, I am off and running.
Double Chocolate Coconut Biscotti
Total Time:
1 hour
20 minutes
Ingredients
2 cups all-purpose flour
2/3 cup granulated sugar
1 tsp baking soda
1/2 tsp salt
1/2 cup semisweet chocolate chips
1/2 cup white chocolate chips
1/2 cup sweetened coconut
1 tsp vanilla extract
2 large eggs
1 egg white, from a large egg
Instructions
Preheat oven to 350 degrees. Line a baking sheet with parchment paper.
In a large mixing bowl, stir together the flour, sugar, baking soda, salt, semisweet chocolate chips, white chocolate chips and coconut. In a smaller bowl, beat together the vanilla extract, eggs and egg white until well combined.
Pour the egg mixture into the dry ingredients and stir until it's mostly combined. The dough will be crumbly and not come together at all.
Turn out onto a floured board and knead the dough with floured hands until it forms a mostly smooth ball.
Place the dough onto the prepared baking sheet and pat into a 1-inch thick piece, pushing the ends in until the dough is rectangular in shape.
Bake for 30-35 minutes, until golden at the edges. Remove from the oven and transfer the log to a cutting board. Cut the biscotti into 1/2 inch slices (it helps to score it with a serrated knife and then cut with an extra-sharp knife straight down). Place the slices on a parchment lined baking sheet. It's okay if they touch.
Bake for 10 minutes. Flip all the slices and then bake for another 10 minutes. Let cool on the baking sheet for five minutes, then transfer to a wire rack to fully cool. The biscotti hardens as it cools.
Store in an airtight container for up to one week.